Final
[2] Paul Coll (NZL) 3-0 [1] Ali Farag  11-7, 11-5, 13-11 (61m)
The 2021 Gold Event concluded tonight 
New Zealand's Paul Coll has become the first non-Egyptian man to win a PSA World Tour title in Egypt for over four years after the World No.2 overcame World No.1 Ali Farag today. Until tonight, Frenchman Gregory Gaultier was the most recent foreign male player to win in Egypt with his El Gouna International victory in April, 2017.
But Coll – who also becomes the first non-Egyptian man to get his hands on a title at the Black Ball Sporting Club – has now broken that streak following an 11-7, 11-5, 13-11 victory over Farag.
Ali Farag, appearing in his third final at the Black Ball Sporting Club, came through a gruelling 97-minute battle with World No.6 Mostafa Asal in the last four and struggled to match Coll, who dominated the court tonight.
It marks Coll's 17th title on the PSA Tour and his third of 2021. It is also the first time that Coll has beaten Farag twice in succession, following last month's win against the two-time World Champion in the Canary Wharf Classic final. The New Zealander wins over $17,500 for his efforts in Cairo this week.
🗣 "This is the third time I've got this one [the runner-up trophy], I want to get the bigger one next time!"

Reaction from @AliFarag following his final defeat to @paulcollsquash tonight 🎥 pic.twitter.com/Mh57DXaHC6

— PSA World Tour (@PSAWorldTour) December 20, 2021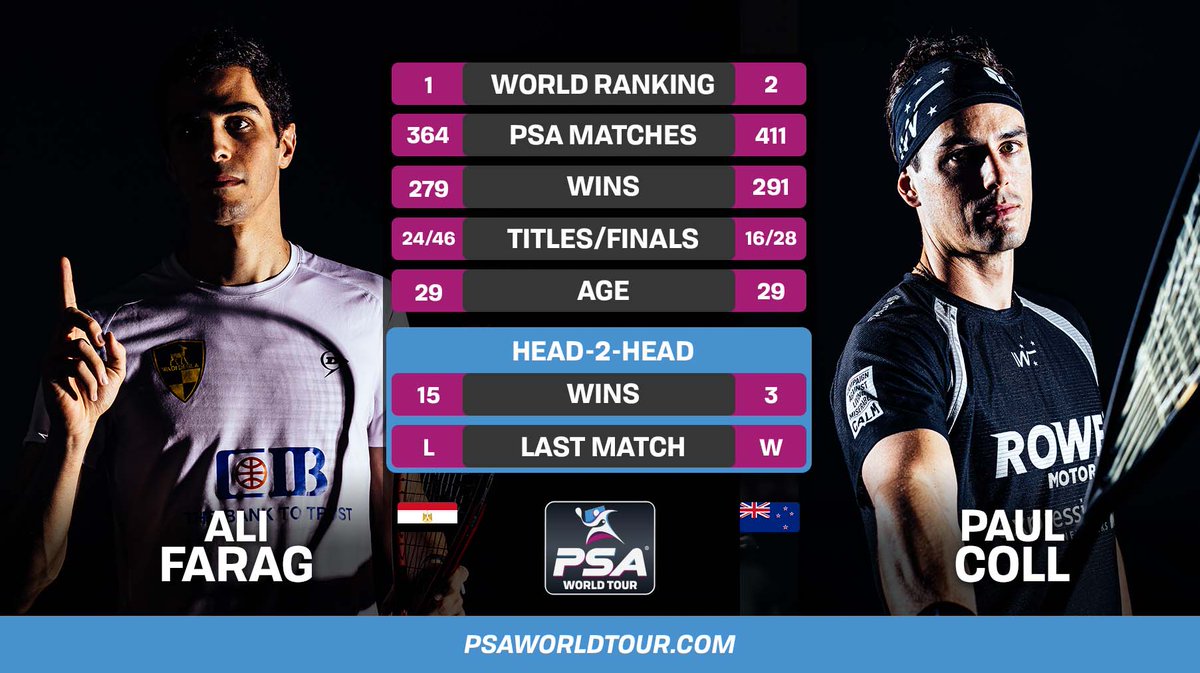 Semis
[1] Ali Farag 3-2 [4] Mostafa Asal    14-16, 11-1, 11-9, 6-11, 11-8 (97m)
[2] Paul Coll (NZL) 3-0 [5] Marwan ElShorbagy  11-5, 11-5, 11-2 (49m)
The final PSA World Tour match of 2021 will see World No.1 CIB Ali Farag and World No.2 Paul Coll go head-to-head in the CIB Squash Open Black Ball title decider following their semi final wins over Egyptian pair Mostafa Asal and Marwan ElShorbagy earlier today.
Ali's match with World No.6 Asal will go down as one of the matches of the year – and one of the best battles ever at the Black Ball Sporting Club – with the 29-year-old finally prevailing by a 14-16, 11-1, 11-9, 6-11, 11-8 scoreline after 97 pulsating minutes of action.
Farag had beaten Asal in eight of their nine PSA World Tour matches coming into today's match, but there was very little between them as Asal overturned eight game balls to take the opening game, before fighting through the fatigue to draw level in the fourth.
However, Farag just about had the better of the fifth game and finally got the win over the line to reach his third final at the Black Ball Sporting Club and his second at the Gold tier Black Ball event following his runner-up finish last December.
Meanwhile, New Zealander Coll has reached his first final at this tournament following an 11-5, 11-5, 11-2 victory over World No.7 CIB Marwan ElShorbagy. ElShorbagy won the Platinum edition of the Black Ball event in March of this year, but he was unable to follow up an impressive performance against World No.4 Tarek Momen in the previous round.
Coll, who was 2-1 down in his quarter final match with Joel Makin before an injury to the Welshman saw him retire, has now reached three PSA Tour finals in a row for the first time since 2016. Coll and Farag have contested four matches so far in 2021, with two wins apiece. If Coll wins in tomorrow's final, he will become the first non-Egyptian man to win a PSA World Tour title in Egypt since Gregory Gaultier won the 2017 El Gouna International.
🗣 "It was very enjoyable."

Reaction from our first men's CIB Squash Open Black Ball finalist – @AliFarag – after an EPIC match with @mostafasal_ 🎥 pic.twitter.com/08mdue3yGa

— PSA World Tour (@PSAWorldTour) December 19, 2021
Ali Farag said
"That was very enjoyable, very enjoyable! I think I started off really well, and it was one of those days where you don't feel good all day, but then once you step on court, you feel good all of a sudden. It is very weird, and I can't pinpoint on something that makes me feel good, I try to prepare the same way every time, but I didn't feel off court before stepping on.
"I felt good all the way to 10-5, a few stoppages here and there and I lost my rhythm. All credit to him, he is such a warrior, he kept digging and digging. I think I had eight game balls in that one and I couldn't convert, but I am extremely proud of how I didn't let that get into my head. It was a big blow psychologically, but I took the positives from the first and carried it on into the second and then the third, I played well again. In the fourth, a lot of stoppages again, the ball softened up a bit and I couldn't get it to the back and I didn't really have a plan, and the fifth was a flip of a coin man!
"We can't thank the Black Ball Sporting Club enough for hosting so many tournaments during the pandemic. We are very grateful, and to CIB for always being a support.
"It is 15 minutes away from where I live, so I have a lot of friends, my mum, my brother, everyone is around! I fed off of them! When I am tense, this is where I get my energy from! I look at them and they give me a fist pump and it gets me going! I am extremely grateful to all of them!
"Paul Coll has obviously been in terrific form recently and he is cementing himself at the top of the game. Marwan ElShorbagy was in top form at the beginning of the year and then he had a dip, but yesterday he played extremely well. It is going to be a mouth-watering affair. Unfortunately I won't be able to watch because I need a massage, and to do a lot to recover for tomorrow!"