Final
[2] Paul Coll (NZL) 3-1 [1] Ali Farag  7-11, 13-11, 11-5, 11-6 (69m)
Semis
[1] Ali Farag 3-0 [3] Tarek Momen   12-10, 11-2, 11-4 (33m)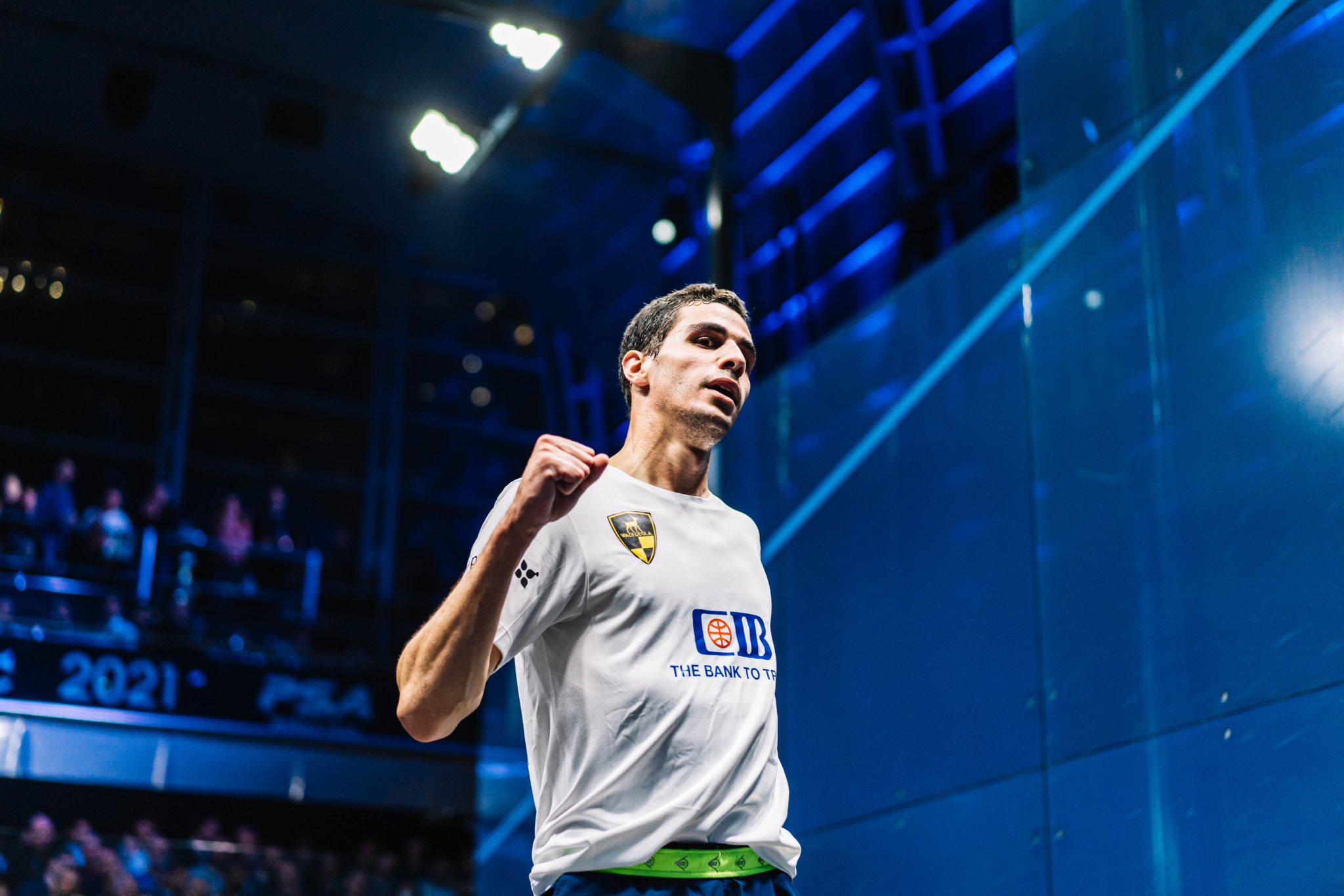 "I had a clear game plan in mind, but it's not easy to implement it against Tarek," said Farag.
"It was a matter of who got their game plan going first. In the first we traded blows a little and it went my way which calmed me down a little so it was easier for me to implement my game plan. In the second and third, I don't think I've ever done it to that level against Tarek before.
"It got in my head a little. Once he started winning points I thought that was that the turning point. It took a funny bounce off something so both of us thought it was dodgy but if it was him, I would have appealed as well.
"I'm very pleased, believe it or not I was lucky enough to win a lot of titles across the globe but never on British soil. I've made semis here and the final, so I hope the trend continues. I hope I can go one further this time. It's a joy to play on this amazing stage, in front of this amazing crowd. I can't wait to play for you again tomorrow.
[3] Tarek Momen 2-0 [6] Mostafa Asal  11-8, 11-3 (27m)
[1] Ali Farag 2-0 [7] Miguel Rodriguez (Col) 11-8, 11-3 (22m)
Ali said
"I wouldn't say we played an exhibition match, he played the exhibition show, I was watching.
"Miguel is such an entertainer, what I admire so much is he can do it whilst playing serious squash as well and winning the British Open and achieved so much whilst playing such entertaining squash. I don't know how he does it. I leave the show for him and I play my own squash but it's always exciting and entertaining and fair to play against Miguel, I really enjoyed the match today.
"I've been playing well so far, I can't complain. Both matches were totally different conditions, we had a flyer of a ball yesterday and today it was a bit slower and was difficult to get the ball to the back corners. It took a while to get used to it but I'm very happy with the way I dealt with it and I'm very happy to get through to the next round.
"I was warming up so couldn't watch everything [of the match before] but watched bits of it. Both are brilliant players, they're evenly matched every time they pay, this time Tarek came out on top so I'm going to have a tough match tomorrow but one which I will really enjoy.
"I was just talking to Mike [Way] and he was asking about Nour, I'm so inspired by her. I'm rediscovering her all the time, as a mum and how giving she is and having time to train and it's not easy I tell you that, she does all the work, I sleep in a different room, but she's training consistently, she's very determined. Maybe black ball might be a little too soon but that's the goal and we'll see how it goes.
"We have so many great squash facilities at home. Wadi Degla has seven branches across Egypt, each equipped with 10 squash courts. Brilliant to see more clubs opening up in different governments as well which is really important to grow our sport."
Tarek said
"I think my hand hit my knee cap as I was hitting my shot and it sort of paralysed half of my hand," said Momen in his post-match interview. I'm glad I could finally take advantage of the three-minute injury break, it always gets used against me so finally I can make some good use of it myself.
"I had my mobility back but still had tingling in my hand and was a bit worried that if he can get a few quick points the momentum could shift because I had a good first game. I was trailing all the way through and managed to overturn the score and win it so I started well I the second.
"I really needed that momentum to keep going and thankfully I had a few shots in at the very early stage of the game with a few lucky bounces. There are some days that it works your way, he's had some days against me where it has worked his way so today was my turn.
"I'm just happy with the way I played today given all the history it's tough to get your head in the game and I managed to do that well today and stay calm. I always like to enter every match just thinking about the game plan, cancel out everything that's happened before, only focus on my game and I'm very happy I could do that today.
"Both [Ali Farag and Miguel Rodriguez] are really good friends, I'm sure the match will be entertaining, I definitely hope they can play for over an hour, I hope it's a great match and I hope tomorrow I can play a really good match with whoever wins it."