[1] Ali Farag 2-0 Iker Pajares Bernabeu (ESP) 11-7, 11-2 (25m)
[6] Mostafa Asal 2-0 Adrian Waller (ENG)  11-1, 11-4 (22m)
[3] Tarek Momen2-1 [9/16] Baptiste Masotti (FRA)  11-4, 9-11, 11-1 (32m)
[2] Paul Coll (Nzl) 2-0 Youssef Soliman  11-6, 11-3 (32m)
Tarek
"I've played Baptiste once in training in Egypt a few months ago.
"I knew he's a danger as an upcoming French player and I tried to be very sharp from the beginning today. Coming into this event, I didn't think I had the best preparation, but I felt like I was getting into it, I wanted to get into the rhythm, the past two days I've been spending a lot of time on court and today I tried to start well, get myself in the zone. I think I did that well in the first game, but Baptiste is a fighter and he never gives up. He came back in the second and stepped it up a level or two from then on I lost track of my game plan a little and I opened the court up much more than I should and he took his chances and built up a lead throughout the second game. I think I did pretty well to come back and thanks Roy, the decision at the end cost me the game.
"In the third game I found my rhythm again and he was a bit unlucky with some errors and I just managed to get away with it.
"The court rewards a good shot, it rewards good drops and kills, it's always good to have that. I felt happy on court today, moving well hitting good lines, have tomorrow to practice on it as well, hopefully after tomorrow I'll be ready.
"Mostafa is doing very well for a 20-year-old. You don't see many players breaking through to later stages of Platinum events. He is a great player, I wish he didn't resort to the stuff that causes issues every time, if I play him 100 times I always think about the game plan and what I'm going to do, I try so hard to block out everything else, I take it one match at a time and see how it goes, after tomorrow it's a new day and all I care about is playing my best, hopefully no shenanigans, hopefully it'll be a good match."
Ali
"It's a joy to talk to you again, and to be here back at CW. This is one of our favourite tournaments, across the year, because of the crowd, the atmosphere is unique in every sense of the word. All of this wouldn't have happened without the great effort of Tim Garner, he does a thankless job so we all want to thank him for putting up such a great event year after year.
"And for the match, I didn't play Qatar so had a month in-between my last tournament and this one, you don't usually get this period without tournaments during the season, so it felt like an off season again, so coming I here, the first match of every season you don't know where you stand you want to test yourself against the big guns
"Yesterday Iker put on a great show, I thought Castagnet was going to get through just because of his experience , but he was the worthy winner and I watched every bit of it, so I was very wary of that was going to happen today, I started the match with very open squash and he punished me right away. Okay I need to go back to basics again, so that's why the first part of the game took so long cause I wanted to assert myself on the T before I open up, then I opened up a little too much but found my game in the second.
"I couldn't have asked for a better year really, lockdown, as tough as it was with people losing their jobs and dear ones, this is obviously something nobody can be happy about. But for me the lockdown was a happy period, it gave me some time to be at home and spend time with family, which is something that I never usually get chance to do during the season. To reflect on where I want to be in my career and life, but it was a good period off and now getting back in was tough without a cold but now we're back and I've had a great year having my first child and winning the world championships all within 11 days, couldn't have asked for a better year.
"Well I never thought I would be professional, I always thought juniors would be the end of it for me. I prolonged it for a bit at university, my elder brother Wael and Nour and my college coach Mike Way, the three of them kept pushing me to play, they said you have the talent for it, the hunger for it and to just go for it, I had to serve in the army so couldn't get a job anyway for one year, so thought I would just go for it was touring the world with the person I love the most, doing the thing I love the most, and I was doing well so I thought okay this is the thing I will do for my career for the next few years and thankfully it went a lot better than I expected.
"You've seen all the best champions here, seen the best of squash but you've missed out big time. Sorry to tell you that. For me he's the best squash player to ever grace the court, his talent was unique, his character and charisma, everything about him. Was sad to see him leave the sport, but he's left a legacy we can all be proud of but hopefully we can fill the gap for you guys.
"Absolutely, it was a goal of mine to show you can become a good student and player at the same time. Amanda [Sobhy] helped pave the way, myself and Todd Harrity. Now to see Gina [Kennedy] doing so well in such a short space of time, she was unlucky as she graduated during covid so couldn't play many tournaments. But now she's proven herself getting to the final of Detroit open, the sky is the limit for her, her attitude is second to none and I wish her every success."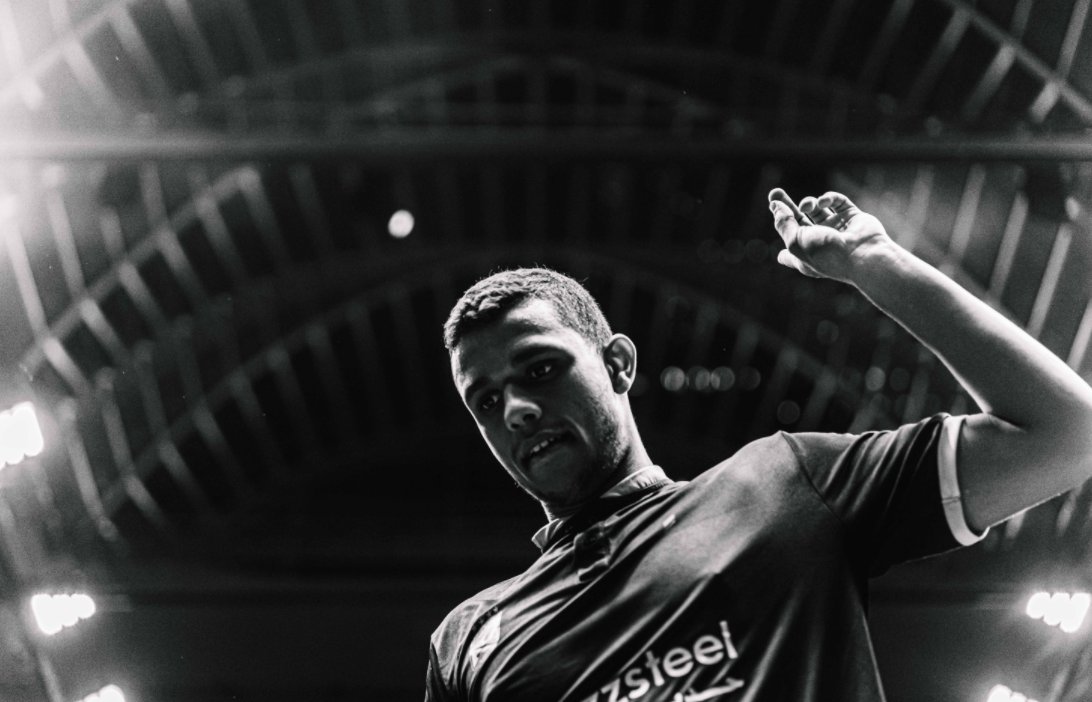 Mostafa
"It's my first time to be here in Canary Wharf and it's amazing for me. The crowd, they are playing with us, I love the crowd, I'm a man of the crowd. I love you guys being here.
"The other players told me you should come, it's been amazing to see, even on SquashTV and how the fans are so close to the players. Last time my ranking didn't get me in, but I'm very pleased to play in front of everyone here because you guys make the sport grow and grow, no seats left in the venue. Hopefully the sport can get to the Olympics, I'm going to make the sport grow for you.
"The U.S. Open was an unbelievable tournament for me, I played for 150 mins to win the tournament. It was very tough, was losing in all my matches, was 2-1 down, I had some injury in my shoulder and didn't know if I was going to play this event or not, but the doctor said I could play. I'm very pleased to play this tournament, looking forward to every tournament, finish this tournament, hang out with friends and celebrate and look forward to the next event. I want to push more, everything I have achieved is in the past, not thinking about my age, thinking about the future. I'm playing as 28/29 and I have the confidence every tournament is a new chance for a new title."