So Gold 6 8 silver, 6 bronze for Egypt ….
All but one of the top seeds prevailed in the under 13 and 11 categories as Egyptian duo Talia Sherif and Hazem Sarwat claimed the under 11 titles, beating compatriots Lilly Mashaal and Malek Ahmed.
An upset in the girls under 13s final as 3/4 seed Habiba Rizk defeated fellow Egyptian and top seed Malika Taymour in straight games to lift the trophy.
India's top seed Anahat Singh captured the girls under 15 title as she beat Egypt's 3/4 seed Sohaila Hazem in four games.
Egyptian success was guaranteed in the boys under 15 category as second seed Marwan Asal took on compatriot and 9/16 seed Seif Refaay for the title. Asal produced a dominant display against an opponent that had a 73m semi the night before. Another major title for the Asal household.
Top-seeded Youssef Salem claimed the boys under 17 title as he defeated compatriot Eyad Hossam in a four-game contest. Hossam captured the first game 11-9 but was unable to continue his momentum as Salem moved through the gears to take the next three games and take the title.
USA captured their second title of the day as 3/4 seed Madison Ho overcame Malak Khafagy in straight games to lift the title. Ho established a 2-0 lead and secured a nail-biting third game 14-12 to win the match.
The all-Egytpian girls U19 final was as fiercely contested as expected with both girls leaving it all out on the court and determined to get their hands on the trophy. Top seed Amina Orfi found herself 2-1 down to second seed Fayrouz Aboelkheir but as she so often does in British Junior Open finals, found a way to win. She stepped up the court to take time away from her compatriot and stormed to victory by winning the final two games 11-2, 11-6 to claim her fourth British Junior Open title
U11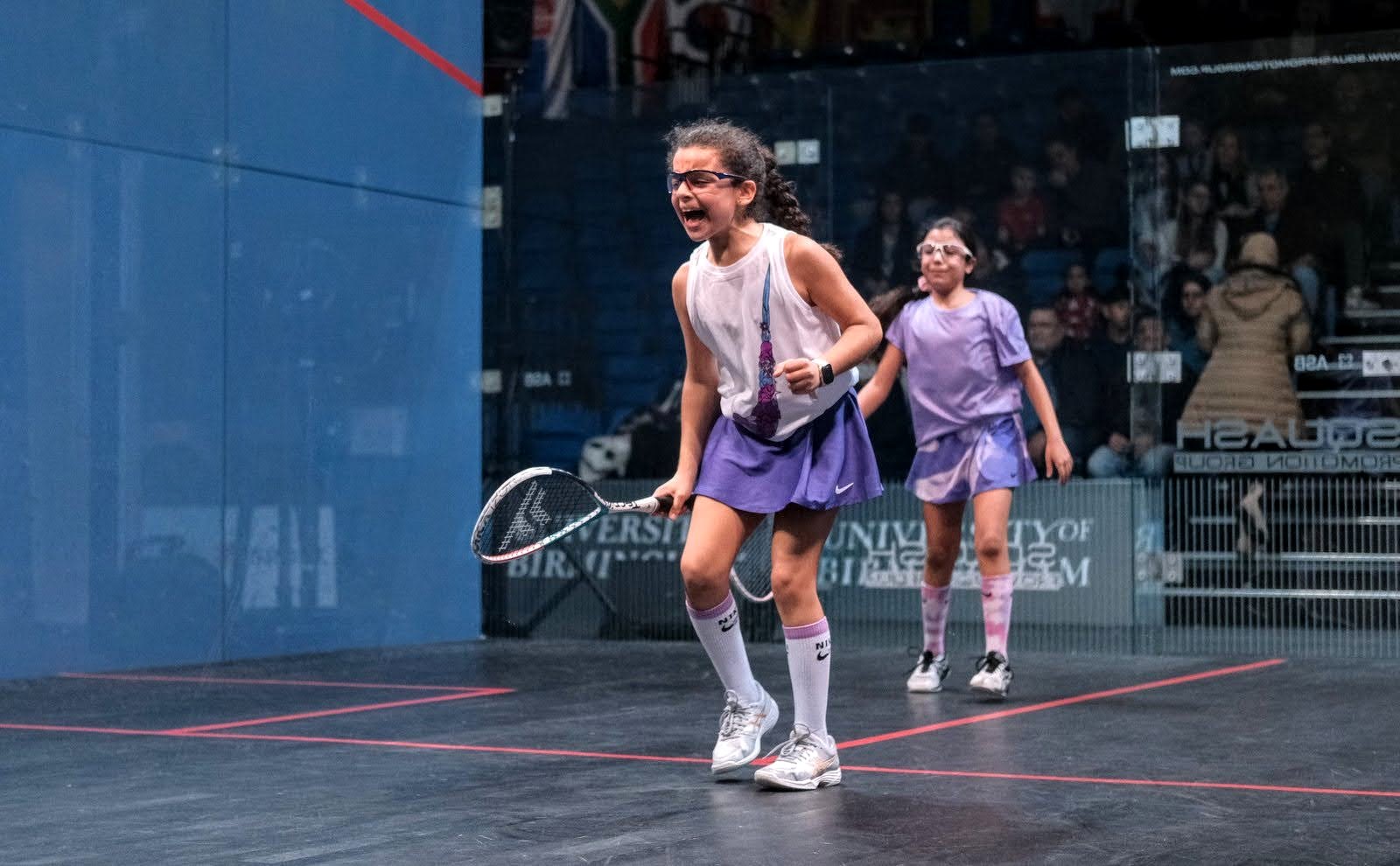 [1] Talia Sherif 3-2 Lilly Marshaal 11-7, 7-11, 6-11, 11-9, 11-2 (30m
3/4 Play-Off
[5/8] Habiba Wael 3-1 [9/16] Joury Khashabah 4-11 11-9 11-3 11-8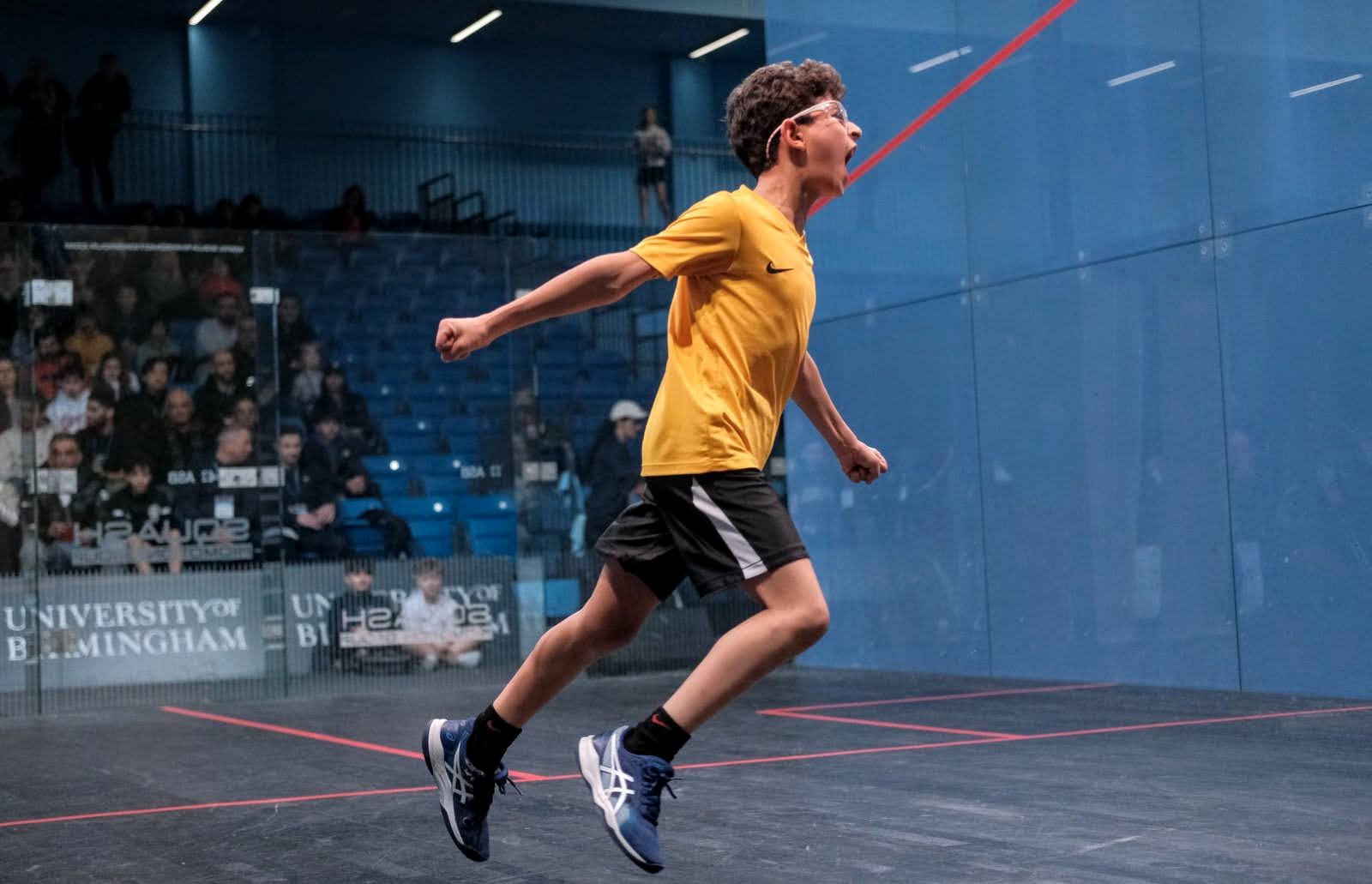 [1] Hazem Sarwat 3-1 [3/4] Malek Ahmed    11-9, 10-12, 11-2, 11-1 (30m)
3/4 Play-Off  
[2] Amr Mostafa 3-0 [9/16] Aser Samir  11-7 11-7 11-5
U13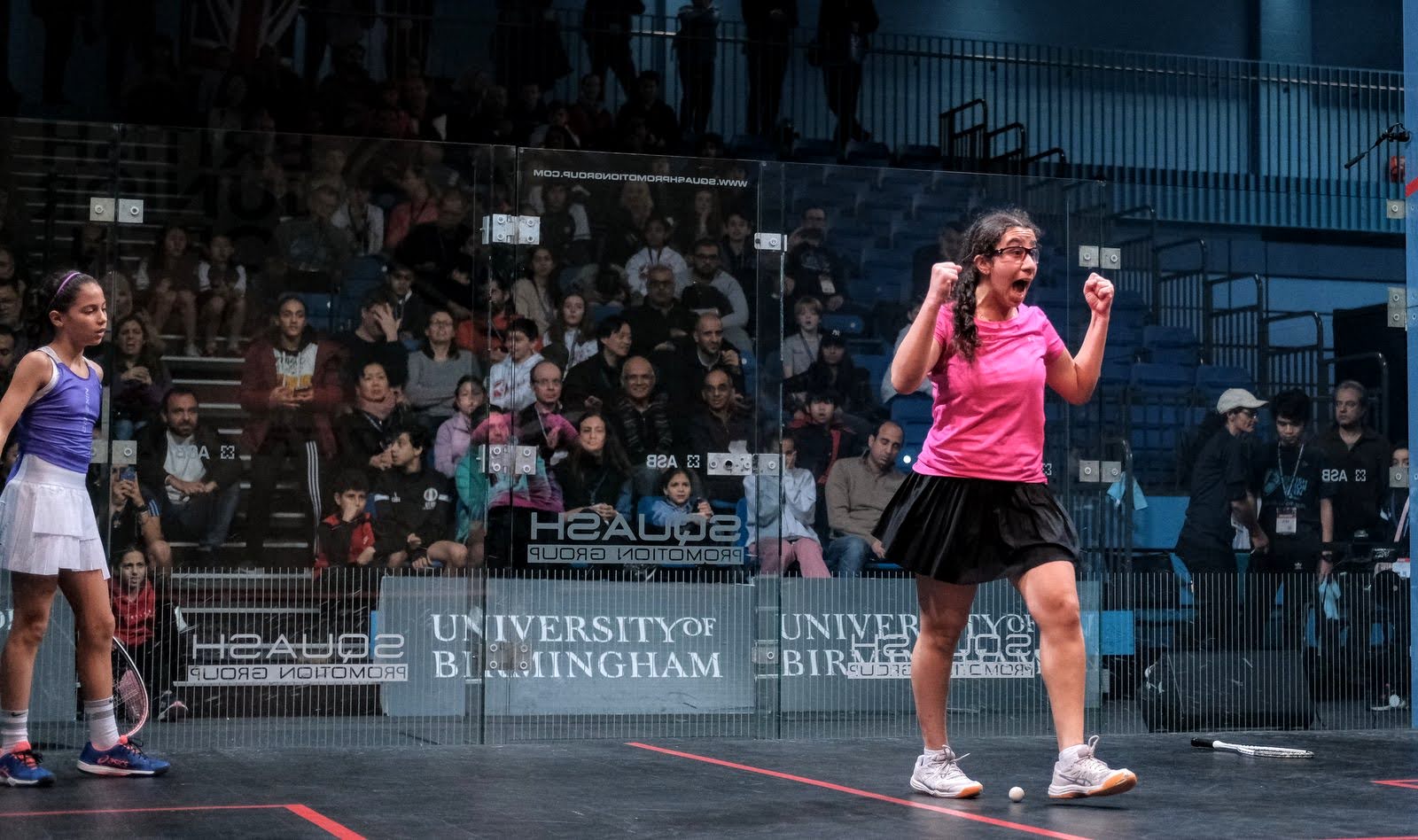 [3/4] Habiba Rizk  3-0 [1] Malika Taymour 11-7, 11-8, 11-8 (24m)
3/4 Play-Off
[9/16] Rama Elnagaar 3-0 Jinoreeka Ning Manivannan  11-6 11-6 11-6


3/4 Play-Off
[2] Eyad Walid3-0 [3/4] Aiden Yun    11-7, 12-10, 11-9
U15
[1] Anahat Singh (Ind) 3-1 [3/4] Sohaila Hazem 11-8, 8-11, 11-7, 11-5 (28m)
3/4 Play-Off
[3/4] Malak Samir 3-1 [5/8] Ruqayya Salem   12-10, 9-11, 12-10, 11-5 (33m)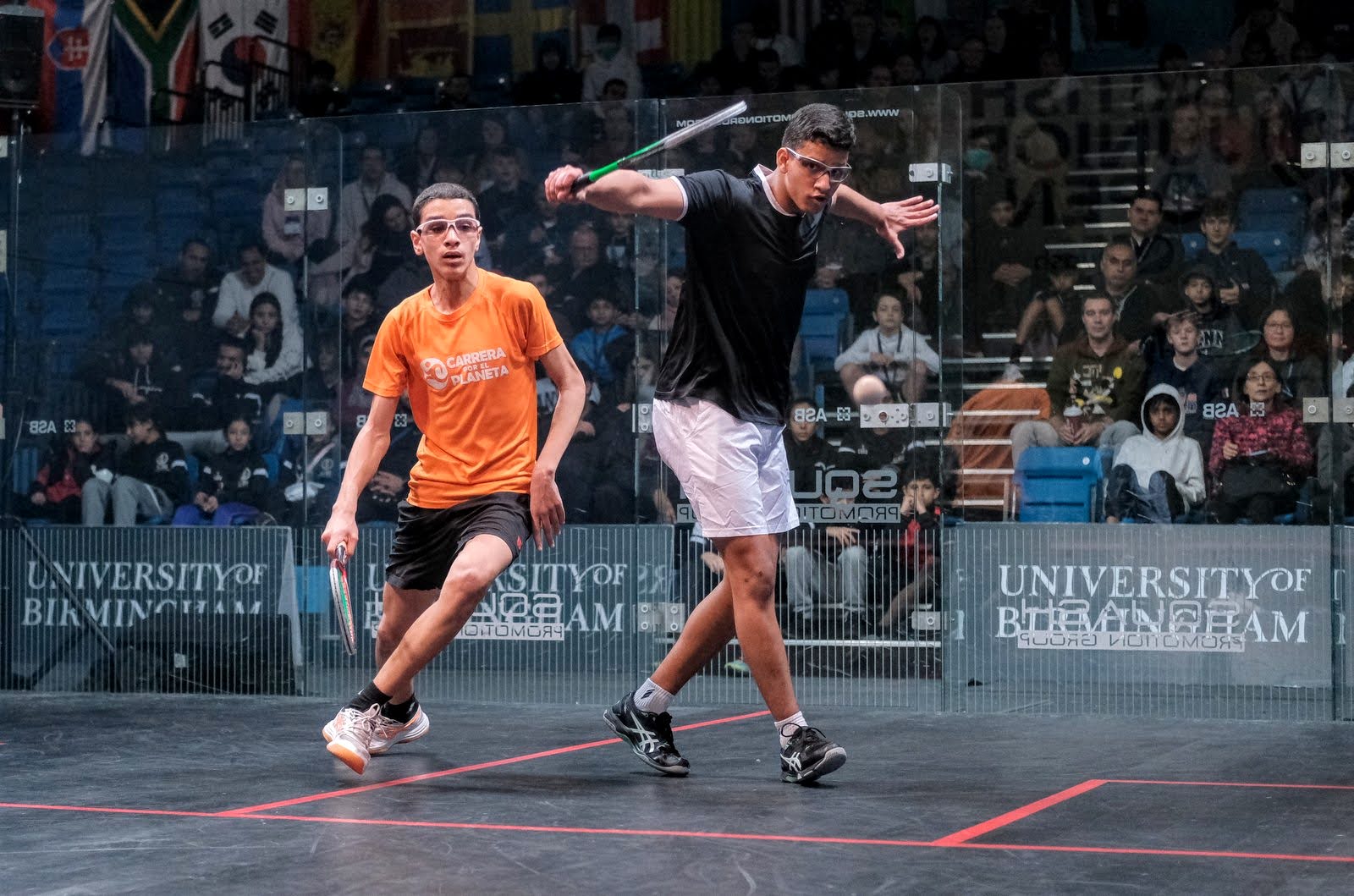 [2] Marwan Asal 3-0 [9/16] Seif Refaay  11-3, 11-5, 11-4 (19m)
U17
[3/4] Madison Ho (Usa) 3-0 [3/4] Nour Khafagy 11-8, 11-8, 14-12 (38m)
3/4 Play-Off
[1] Barb Sameh 3-0 [2] Salma El Sheik 15-13, 11-5, 11-8
[1] Youssef Salem 3-1 [3/4] Eyad Hossam  9-11, 11-9, 11-6, 11-4 (45m)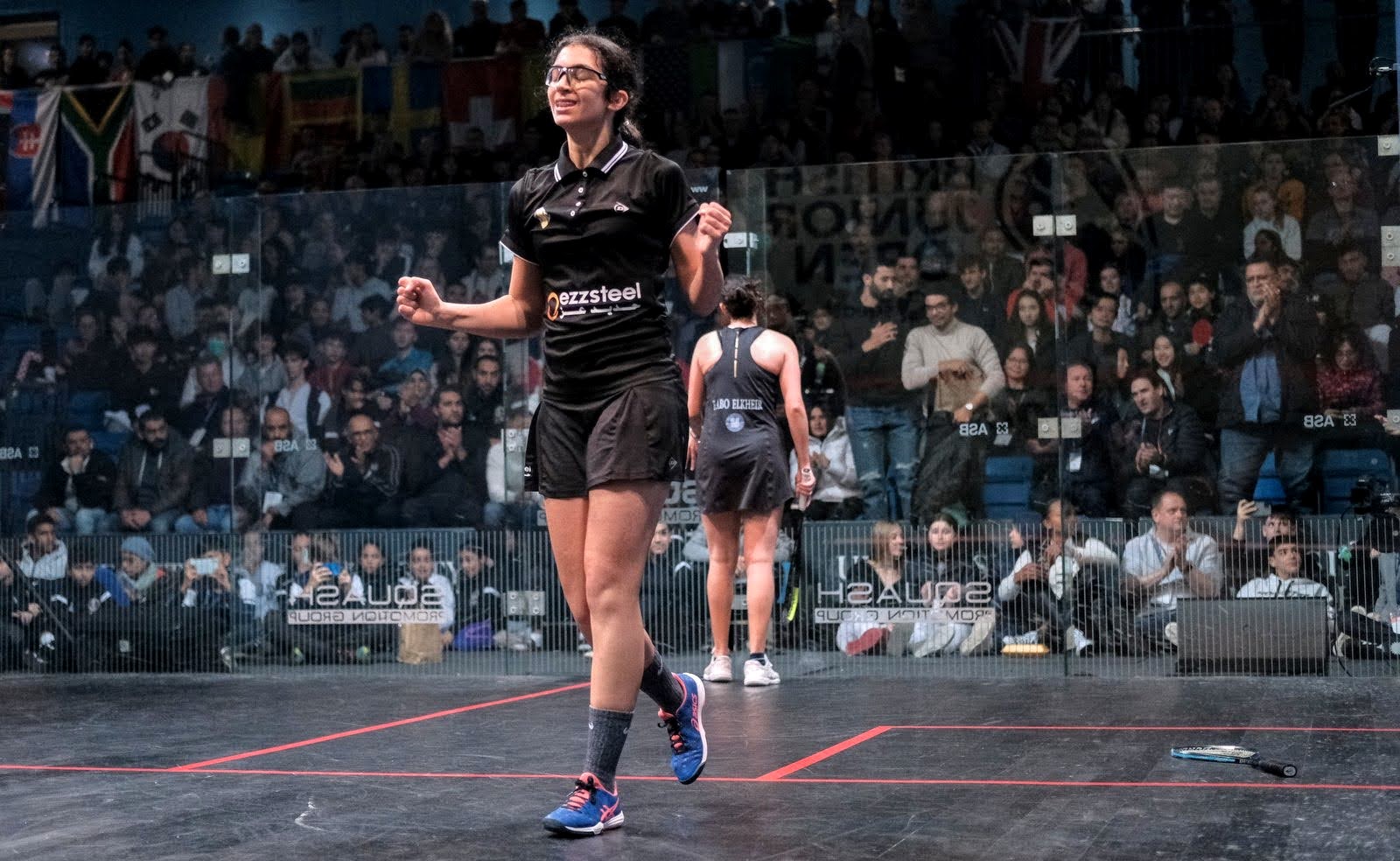 U19
[1] Amina Orfi 3-2 [2] Fayrouz Aboelkheir   6-11, 11-6, 4-11, 11-2, 11-6 (49m)
3/4 Play-Off
[3/4] Aira Azman (Mas) 3-2  [3/4] Malak Khagafy 11-5, 3-11, 7-11, 11-8, 11-9