Day Two
[1] Kenzy Ayman3-0 Chloe Crabbe (Bel)  11-5, 11-7, 11-2
[5/8] Salma El Tayeb 3-0 Tse Yee Lam Toby (Hkg)  11-6, 11-7, 11-6
[9/16] Nardine Sameh Garas3-0 Savannah Margot Ingledew (Rsa)  11-1, 11-4 , 11-6
[3/4] Fayrouz Abouelkheir 3-0 Amelie Haworth (Eng)  11-9, 11-7, 11-4
[5/8] Malak Khafagy 3-0 Madison Lyon (Aus)   12-10, 11-8, 11-3
[2] Amina Orfi  3-0 Lauren Baltayan (Fra) 11-4, 11-3, 11-3

Mohammed Nasser [5/8] 3-1 Javier Emilio Romo Lopez (Ecu)  11-6, 11-6, 7-11, 11-4
Juan Jose Torres Lara (Col) 3-2 Kareem El Torkey [3/4] 11-9 11-9 7-11 4-11 11-9
Salman Khalil3-0 Omar Said Sobhy [5/8]    11-4 11-8 11-6
Mohamed Zakaria [9/16] 3-0 Laszlo Godde (Fra)   11-5 ,11-6, 11-5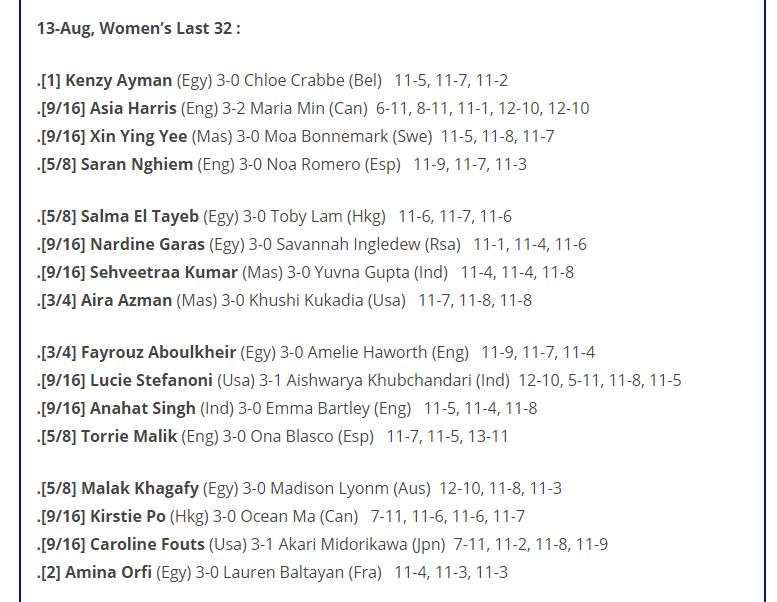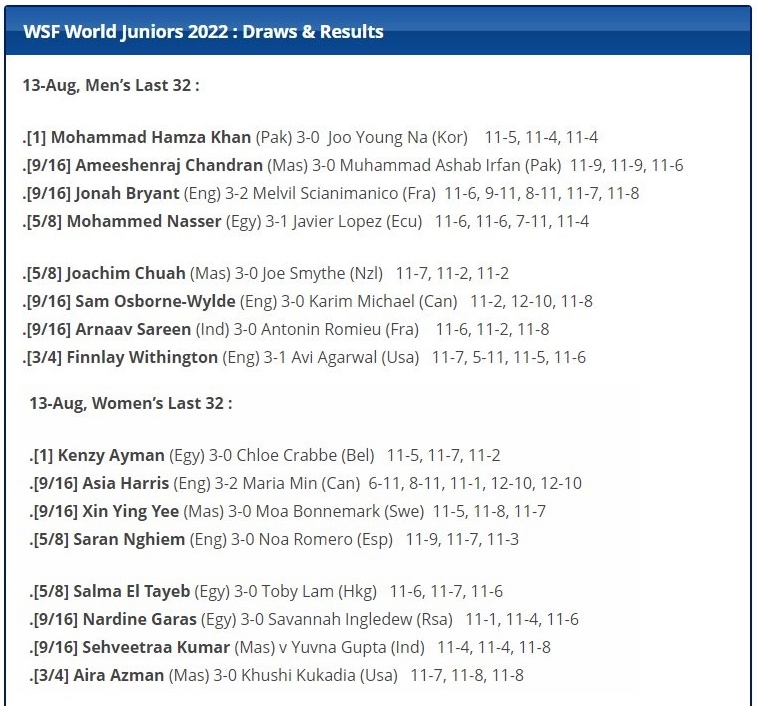 Day One
Only loss in day one was Omar Azzam who bowed in 5 games against Canadian Karim Michael 16-14 9-11 3-11 11-5 11-2 . All the other matches were won in 3.
Full Draws & Results
Amazingly the reigning champions are CIB Hania El Hammamy and Mostafa Asal, now both ranked #3 in the senior world rankings ! The individual event will be followed by the team event.