Men's $110k PSA Gold, 04-09 Jan, Texas, USA
[1] Ali Farag3-1 [6] Mazen Hesham   11-6, 8-11, 11-7, 11-3 (50m)
🗣 "You're always on your toes, you don't know what to expect in the next shot, I don't think he knows what to expect it, and that is how skilful he is."

Hear from @AliFarag after he lifted the first trophy of 2022, and the 25th title of his amazing career! 🎙#HoustonOpen pic.twitter.com/ZzX3ep9yDR

— PSA World Tour (@PSAWorldTour) January 9, 2022
Ali said
"I don't think I necessarily started shakily, as much I get edgy playing Mazen because of how skilful he is. You're always on your toes, you don't know what to expect in the next shot, I don't think he knows what to expect it, and that is how skilful he is.
"It makes you very edgy and as much as I am happy about this win, I am extremely happy for Mazen as well. Mazen and I actually started out on Tour together and I was looking up to him when we first started and he made it to the semi-finals of a Platinum event at a very young age and he has been unlucky a lot of niggles, a lot of injuries.
"He has been battling hard, I see him every day in training, we share a lot of things together and finally, he is where he deserves, and it is only going to get better for him, so I am extremely happy for Mazen, for sure!
"We share the same club, Wadi Degla, as we like to call it, the 'Community of Champions'. We share the same sponsor, Expression Networks, and most of all, we share a great friendship that I think will last a long time beyond our squash career. I am honoured to share a court with him today and hopefully it is the first of many to come!"
"I am blessed with what I have achieved so far in my squash career and in my life. I have a beautiful wife back home, I tried to reach her but she is sleeping right now. I have a beautiful daughter, and my family, everyone! Talking about here, I am extremely happy to be here, extremely happy to have won the first Gold event here in Houston. What Jahanzeb Khan has done here in amazing. He has built a community out of almost nothing. Our sport needs people like you so we can't thank you enough!
"The main sponsor, Champion Fibreglass, thank you so much for supporting us. It means a lot to us! A few more words about Mazen, because we share a lot of things. We share a fitness trainer, who is very important to our hearts! To our strength and conditioning expert as well, we can't thank them enough.
I also want to thank you guys for coming every single day. We couldn't have felt this warm without you! Thank you very much and hopefully I will be here with Nour playing the event in September!"
Mazen
"It is a week of firsts. I am really happy, it doesn't look like it, but I am really happy with what I have achieved this week. I have had a few milestones in this tournament, mentally and physically.
I wish I could have performed better, but my shins didn't help me in the end. All credit to Ali, he is a champion, he is the World No.1. He deserves to be in his place, he deserves to be in this position and hopefully next time, and one day, I will be in this position, if a few things happen my way!
"I want to thank everyone here for coming and cheering me on. You guys know how much I love you, how much I like playing here. I want to thank Jahanzeb Khan, and all the hard work he has put in. Everybody here, people are great to me here, I will keep coming and hopefully next time I will be the champion."
Semis
[1] Ali Farag 3-2 [3] Mostafa Asal   6-11, 11-2, 13-11, 4-11, 11-3 (82m)
[6] Mazen Hesham3-0 [7] Gregoire Marche (FRA)  13-11, 11-5, 13-11 (52m)
Ali Farag will face compatriot Mazen Hesham in Sunday's final at Houston Squash Club, after the Egyptian overcame the challenge of France's Gregoire Marche, winning in straight games to book his place into a Gold level final on the PSA World Tour for the first time in his career.
The Egyptian, who has struggled with injuries throughout most of his career, is back to his best, and he was able to show that from the off against the Frenchman, with both men having come through five-game battles on quarter finals night.
After 'the Falcon' claimed the first game on a tie-break, he was able to carry that momentum through the second game, where he doubled his advantage. However, Marche fought back in the third, and Hesham had to save several game balls. He did, and at the second time of asking, took the victory to secure his place in Sunday's final.
Mazen
"First of all, I'm really happy with the way I am at the moment. Im here playing and enjoying my squash again, showing what I can do and playing the brand of squash I want to play, entertaining people and entertaining myself, hearing people cheering and loving squash every day.
"I have mixed feelings to be honest. If you'd told me a week ago that I was going to be in the final, I would say I think I deserve it. Of course, after what God gave me, and with God's blessing, I did enough hard work. I've been working, battling injuries for six or seven years now and even yesterday I was battling injuries.
"Ali Farag and I are good friends. Of course, he's World No.1 and even though I have beaten him, the head-to-head record goes to him. So I need to come back for one more day tomorrow, put on a show, match him up and hopefully the crowd will enjoy it. May the best player win!"
Ali said
It's never easy playing Mostafa. I think both of us are better squash players than what we produced today. Today was very fragmented, with lots of stoppages and I think we enjoy playing more free-flowing squash. The crowd deserves more free-flowing squash, but it is what it is. Some matches you have to get through like this. I'm just glad that I'm through.
"Thanks to Mike Way, my head coach at Harvard. Ever since my Harvard years, he taught me that – and I know it's a cliché – but you can only control the things you can control. I try not to get distracted by any outside circumstances; I try to focus on the task at hand. In the fourth, I was totally blown away. It wasn't good. But I had to let it go to regroup in the fifth and thankfully I did that. But again, it wasn't the prettiest squash."
When asked whether it was harder to reach World No.1, or defend the position, Farag said: "Both I guess! I've been asked before and I'm never able to answer to be honest. Getting there, you have those doubts over whether you'll ever be able to do it. These doubts always haunt you whenever you're on court and you're very close, you get too desperate. I remember in the Black Ball Open when I lost, if I had won, I would have been World No.1 and I wondered if I'd ever get the chance again. Now that I'm on top, consistency is key. It's never easy and now you're the hunted, you're not the hunter anymore! People study how you play. Mostafa's only 20 years old and we've already played over ten times. It's a testament to how good he is. He's reaching the latter stages of tournaments from a very young age. I wish I was like that when I was his age! The scary thing is that he's only going to get better from here. It's tough to stay there, but – again another cliche – you have to focus on the performances and the results and rankings will follow. Laura Massaro said it best when I was younger, she said: 'Once you reach it, you don't need it anymore, you want it,' so it takes that desperation away from you and makes you play more freely, so I hope I manage to do that and tomorrow's going to be another tough task."
Quarters
[1] Ali Farag 3-0 Youssef Soliman  11-4, 11-6, 11-9 (37m)
[3] Mostafa Asal 3-0 [5] Miguel Rodriguez (COL) 11-5, 11-3, 11-8 (40m)
[6] Mazen Hesham 3-2 [4] Marwan ElShorbagy  11-4, 5-11, 4-11, 11-3, 11-7 (54m)
Mazen
"These are the ones that stick with you forever. I always feel that it's my second home here, as if it's just a 15 minute walk from my house. I think I should have done much better today, but my shins hurt me again. I'm not sure what's happening, I kept saying to myself that it's not going to come easy to me.
"I've fought so many things during my career and I'm still fighting every day. Something is always happening with my body as soon as I come close to winning. I've come a long way with my mental toughness and I've been working on myself.
"I think I'm doing better and if my body lets me play a little bit I think I will do much better than this."
Ali said
"I regard Youssef extremely highly. I knew I would have a very tough time. Often we stand here and talk about our opponents out of respect, but this time I'm talking about him out of fear. I know how good he is, how much better he can be, and I knew today was going to be tough.
"I had to have my tactics spot on. Even though the scores might not look that close, he's always on the verge of turning it around, so I had to be on my mettle every single point. Whenever I lost it, I was really angry at myself, especially at 10-7.
"Thankfully I was able to close it down and I'm extremely happy to be through in three.
"This tournament has a lot of meaning… it's the first tournament of the year and you want to make a statement and show you are playing well. It's a Gold event and how much more do we need for this to be meaningful. We very welcome here, everyone takes very good care of us and the crowd are very into it.
"I regard this like any other tournament, I'm here to win it hopefully but I'll take it match by match and see how it goes."
Mostafa
"Miguel is a very tough opponent. He has been amazing so far, he won the British Open and it's very tough to play against him. It's a pleasure for me to step on court with these guys, they are legends. In two, three or four years I'm going to miss them, it's going to be all about the memories, and I love to play against him.
"Even if I lose or win, it's a pleasure to step on court with him.
"I've been studying Ali with my coaches and my father. Ali has an unbelievable record against me, never before has a player had this kind of record against me, not even in juniors. I think in eight or nine times I have only one win against him, but I'm looking forward to it.
"I'm going to give it 150 per cent, I'm playing with the World No.1 and the World Champion, so I'm going to give it my all and I hope to get the win tomorrow."
ROUND TWO
[1] Ali Farag 3-0 Raphael Kandra (GER)  11-3, 11-6, 11-4 (26m)
Youssef Soliman 3-0 [8] Youssef Ibrahim  11-7, 11-8, 11-9 (58m)
[5] Miguel Rodriguez (COL) 3-0 Mohamed ElSherbini 12-10, 11-8, 11-8 (47m)
[3] Mostafa Asal 3-0 Dimitri Steinmann (SUI)  11-3, 11-4, 11-8 (46m)
[4] Marwan ElShorbagy 3-0 Cesar Salazar (MEX)  11-8, 11-7, 11-7 (34m)
[6] Mazen Hesham 3-2 Nicolas Mueller (SUI)  4-11, 11-8, 11-9, 7-11, 12-10 (62m)
[7] Gregoire Marche (FRA) 3-0 Omar Mosaad  11-3, 11-7, 11-5 (45m)
Marwan said
"I'm very happy to see Cesar back on court. He's been struggling for a very long time with injuries, and I think he got COVID last year and struggled with it afterwards. It's really good to see him back, he's done a lot for squash in Mexico and I'm really happy to share a court with him once again. We've had so many good battles before.
"It's a shame that ToC got postponed because of the new variant… hopefully we get more of a consistent calendar. After this tournament I'm going to take some time off and hopefully have a good patch of training for the rest of the season."
Mostafa
"It was a physical match, Dimitri is a fighter, he will be moving and moving. He is playing really good squash. I watched him yesterday and I didn't expect that performance, it was unbelievable to beat Declan James in that form, it isn't easy at all.
"I tried, the first and second game, to handle my emotions a bit. I am excited to play here, it's my second home here in Houston. I have been here lots of times, and it's my main club outside of Egypt.
"Miguel is one of the best players of tour, with lots of big performances. He is a British Open champion, so I am looking forward to this match. All the tactics are in my mind, and I wish him good luck, and hopefully all the spectators will enjoy the match!"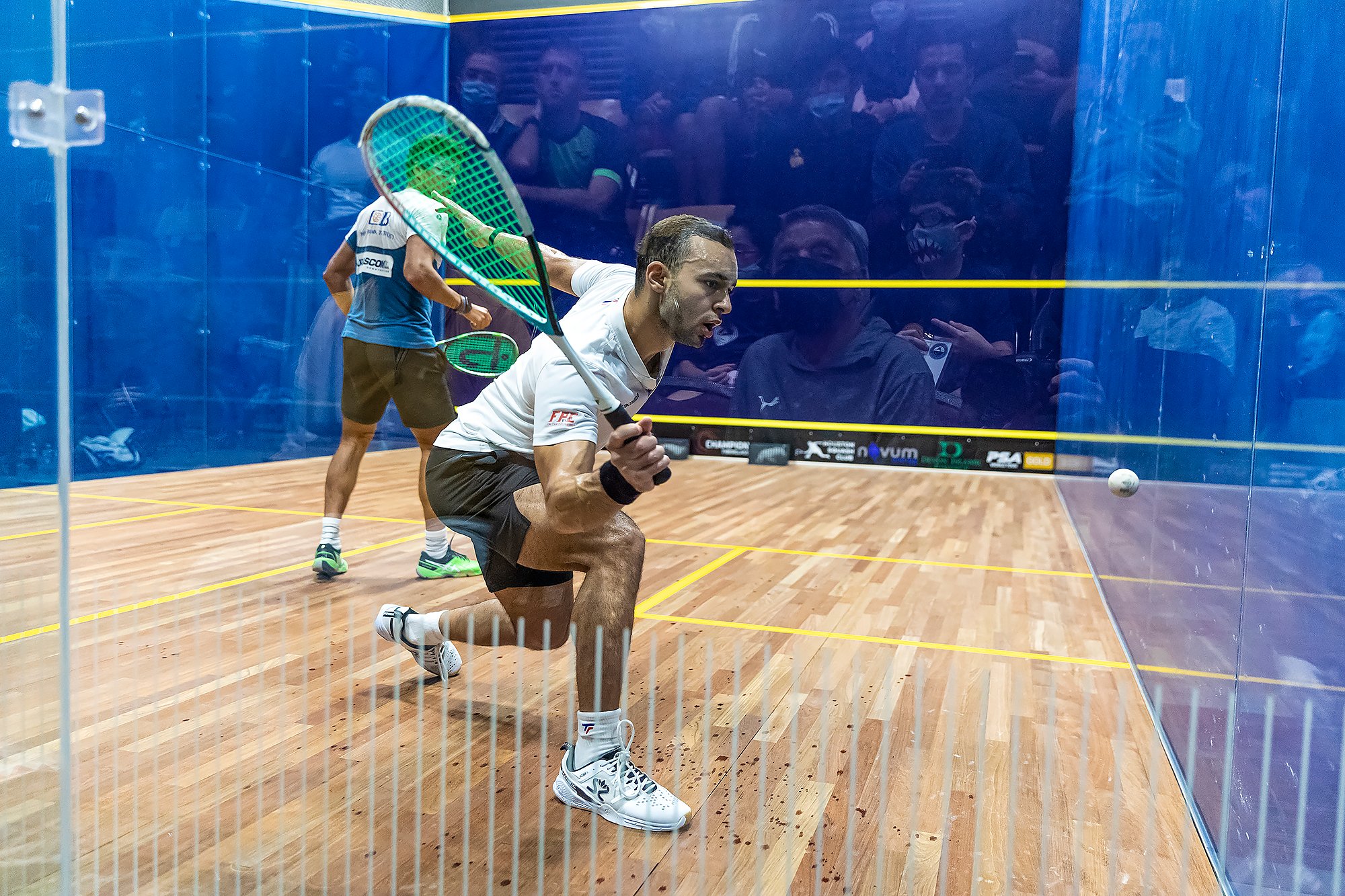 Soliman
"Today was way different to yesterday, yesterday I was coping with Nathan's game plan, today I was coping with my nerves. Youssef is up and coming and he's talented and I tried to contain him. It was a nervy start and a nervy end but I'm glad to be through.
"Ali is my training partner, I train with him every day and he teases me every single second. He looks at me and teases me about what I wear, how I play squash, everything, so it will be different. I have to be aggressive against him and it will be exciting."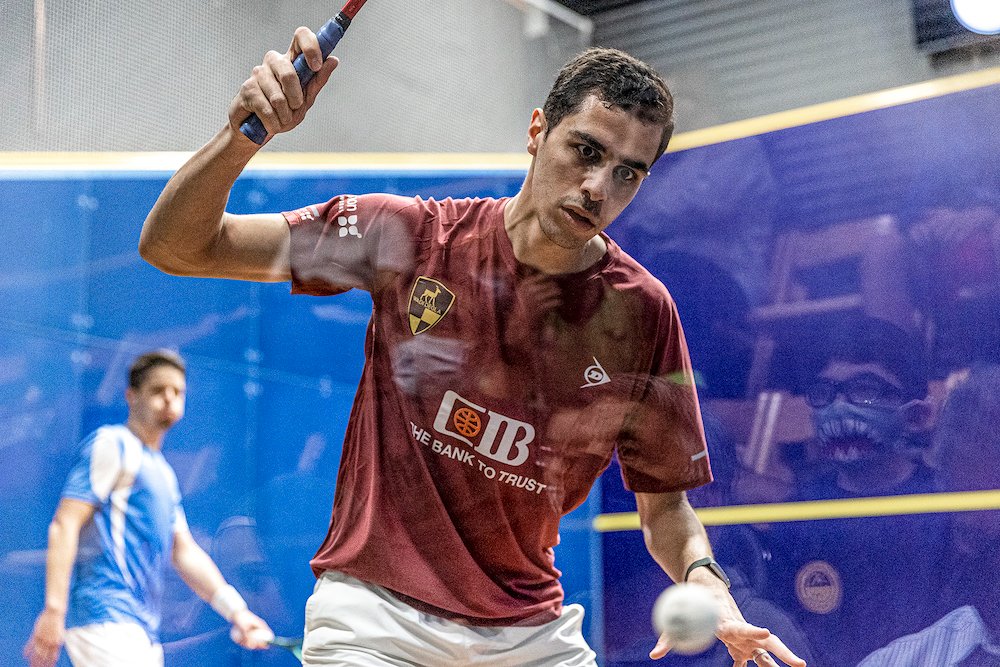 Ali said
"I'm really happy with the way I played today. It's a tough first round opponent. Raphi is a very unique player, he doesn't play two shots the same one after another, he mixes it up every single shot, which makes it hard for me to get into a rhythm. I'm orthodox and he's on the other end of the spectrum.
"I had to sway him my way, which was not easy, but I managed to do that for most of the match.
"This court is a unique one and we need to get used to it. There are different colours and we like unique courts like this one in Houston and the pink court for the World Tour Finals in Dubai."
ROUND ONE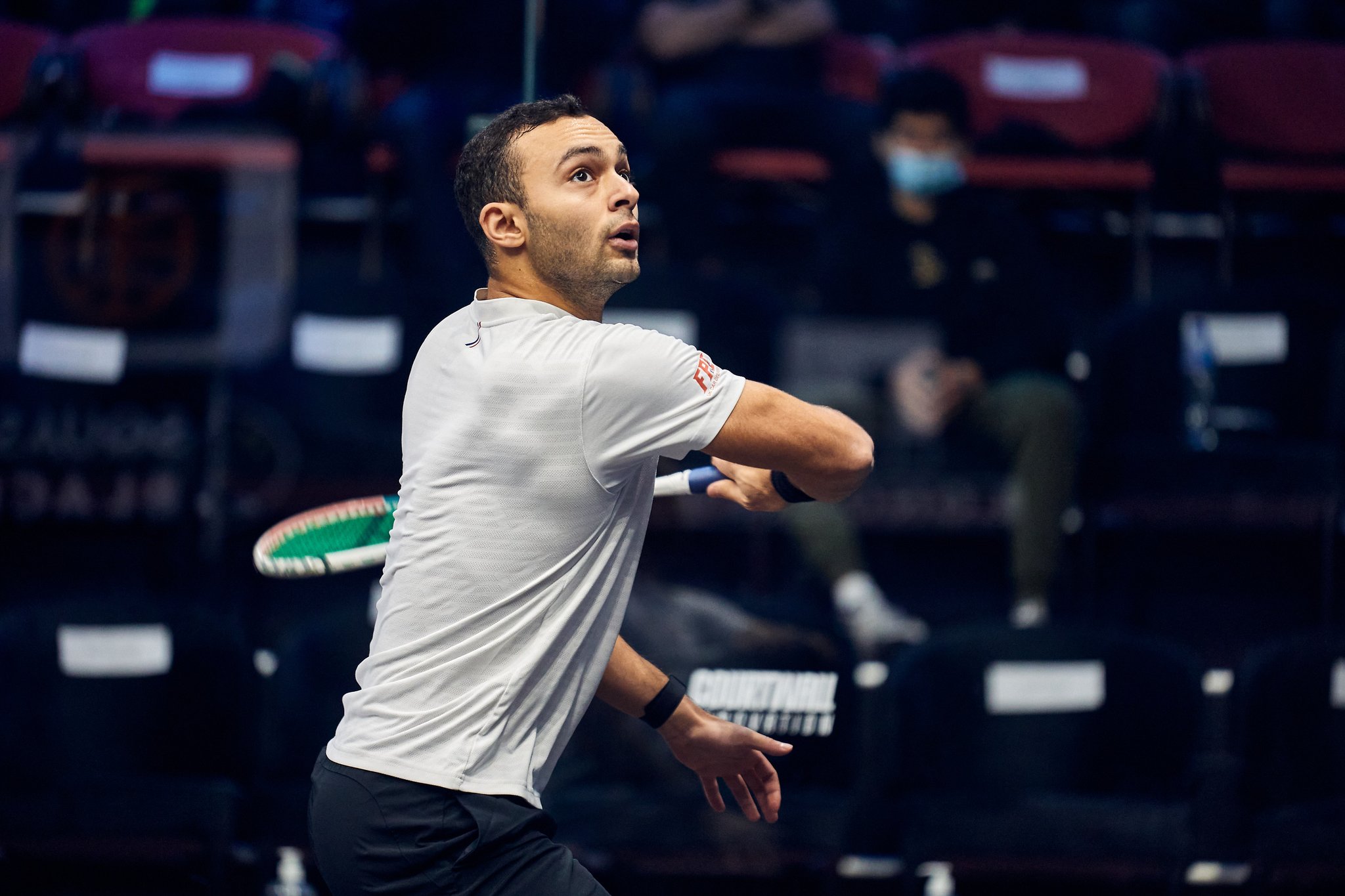 Round One
[9/16] Youssef Soliman 3-0 Nathan Lake (ENG)   18-16, 11-9, 11-7 (61m)
[9/16] Mohamed Elsherbini3-2 Todd Harrity (USA)  8-11, 11-5, 10-12, 11-8, 11-7 (69m)
[9/16] Omar Mosaad 3-0 Bernat Jaume (ESP)    11-7, 11-7, 11-1 (27m)
🗣 "I just want to come and play my best squash, play a good match with no regrets!"

Listen to what @moelsherbini1 had to say after he got the better of USA's @toddharrity to make it into the last 16 in Houston!#HoustonOpen pic.twitter.com/wRoO6ZRvXX

— PSA World Tour (@PSAWorldTour) January 4, 2022
🗣 "He is such a good player, so I had to stick with my game plan, especially in the first game!"

Hear from @mosaadsquash after the Egyptian booked his spot in the last 16 here in Houston! pic.twitter.com/lMSajbdXbN

— PSA World Tour (@PSAWorldTour) January 5, 2022
Mosaad said
"It's really tough to play in the first tournament of the year. I was a little bit nervous and he's such a good player. I needed to stick with my game, especially in the first game, and I'm really happy to make it through in three today.
"I think it's going to be a good match, he's [Marche] such a good player. He's very fast on the court and he has some shots, so it will be a good test for me. I've got some training in over the past two or three months, so I'll put everything into it and I hope I can win."
Very long first game for Youssef, who played catch up the whole match, and still won 3/0….
🗣 "All credit to him to push me that hard and it is good to sharpen me up for tomorrow!"@y_soliman97 gave us his thoughts after he got the better of @nathanlake3 in a high-quality first round contest!#HoustonOpen pic.twitter.com/uLa6mOFedj

— PSA World Tour (@PSAWorldTour) January 4, 2022