[7] Mostafa Asal 3-1 [9/16] Saurav Ghosal (Ind) 7-11, 13-11, 11-9, 11-6 (69m)
Mazen Hesham 3-0 George Parker (ENG)  11-4, 11-6, 11-7 (25m)
Mohamed Abouelghar 3-1 [5] Karim Abdel Gawad  4-11, 11-3, 11-8, 11-3 (45m)
[4] Marwan ElShorbagy 3-2 Borja Golan (ESP)  11-9, 10-12, 11-13, 11-7, 11-6 (65m)
Youssef Soliman3-2 Omar Mosaad 11-2, 6-11, 10-12, 11-3, 11-8 (66m)
[3] Tarek Momen 3-0 James Willstrop (ENG) 11-5, 11-9, 11-9 (38m)

Youssef Ibrahim
"I expected myself to play really well.
"Mohamed is known as 'The Beast' and his mentality is so strong, he probably has the strongest mentality of any squash player. I knew my win against him last year would rile him up and he would come at me today and I didn't want to be a victim. I'm also the kind of player who plays better when I'm angry, so I tried to give myself a reason to be angry today.
"I knew he would come at me strongly, so I was very prepared from the start. He tried to push the pace so hard at the beginning and I equalled him. I didn't want anyone to say it was a lucky win and I'm happy to be competing with the top 10 guys and beating them consistently. I think my tactics worked out well and I held my nerves well throughout the match.
"I'm still a student athlete at Princeton University in the US, so I'm not a full-time pro yet. Luckily, the pandemic worked in my favour, I used that whole year to train in Egypt with the best players in the world and I was able to play some tournaments. Shout out to the Princeton squash team, they're actually watching back home and they're cheering me, so go Tigers.
"I'm lucky that I got this year to travel and play professionally, but I trained super hard. I wouldn't say I don't deserve it, I'm a little bit lucky but I was mentally tough and my results have been consistent throughout the whole season. I'm happy I'm getting a step further at every tournament."
Marwan:
"Before this match I knew how tough it was going to be.
"Borja is a great player, he's done so much in his career and he's had a great career. It's probably easier to come from Egypt and be good, but he's come from Spain and gotten to World No.5 and reaches major finals. I grew up watching him, he was a role model to me and he inspired me a lot.
"It's a pleasure to share a court with him once again.
"I tried to stay in the match and he had a few chances, he was leading in the fourth but I stuck to my game plan and I know it worked. It's tough to play Borja, on he's day he's very hard to beat, so I'm very glad to be able to win today."
On Gaultier's retirement: "Greg has done so much for the sport and he's had a career that everyone would dream of having. People probably just see him on court, but off court he is one of the nicest people you could ever meet.
"If you ask for advice he will give it to you. I was very lucky last year to train in Prague with him for a week where I learned a lot from him and his experience. It's a sad day for him but I want to congratulate him for his career and for everything he has achieved.
"He means a lot to all of the players and we will definitely miss him on tour."
On his match with Rapha: "I played Rapha last season in August at the British Open. We always have tough matches and I'm really looking forward to it."
Tarek
"I think we've played here in Qatar three out of the last four years and we've just played in Philly, so I was thinking 'not again'.
"On the other side of the coin, it's such a pleasure to play him always. He's fair and the way he plays is incredible, you can never play a match against him and not enjoy it whether you win or lose. Of course, it feels a lot better when you come out the winner, but I enjoy what he does with the racket and you always try to outmanoeuvre him.
"I always feel at home coming here. The best memory I'll ever have in my whole career was here in 2019, these guys [the fans] made it happen for me and they will always be part of my legacy in this sport. If I write a story about my journey, this is going to be the highlight and they were a part of it."
Youssef
"I knew it was going to be tough as Omar is trying to get back to where he has been in the rankings. We are very close and it was always going to be a battle," Soliman said.
"I expected to be in front and trying to get him moving, but the front wall is so fas on these courts that he was the one making me move, so it was so tough.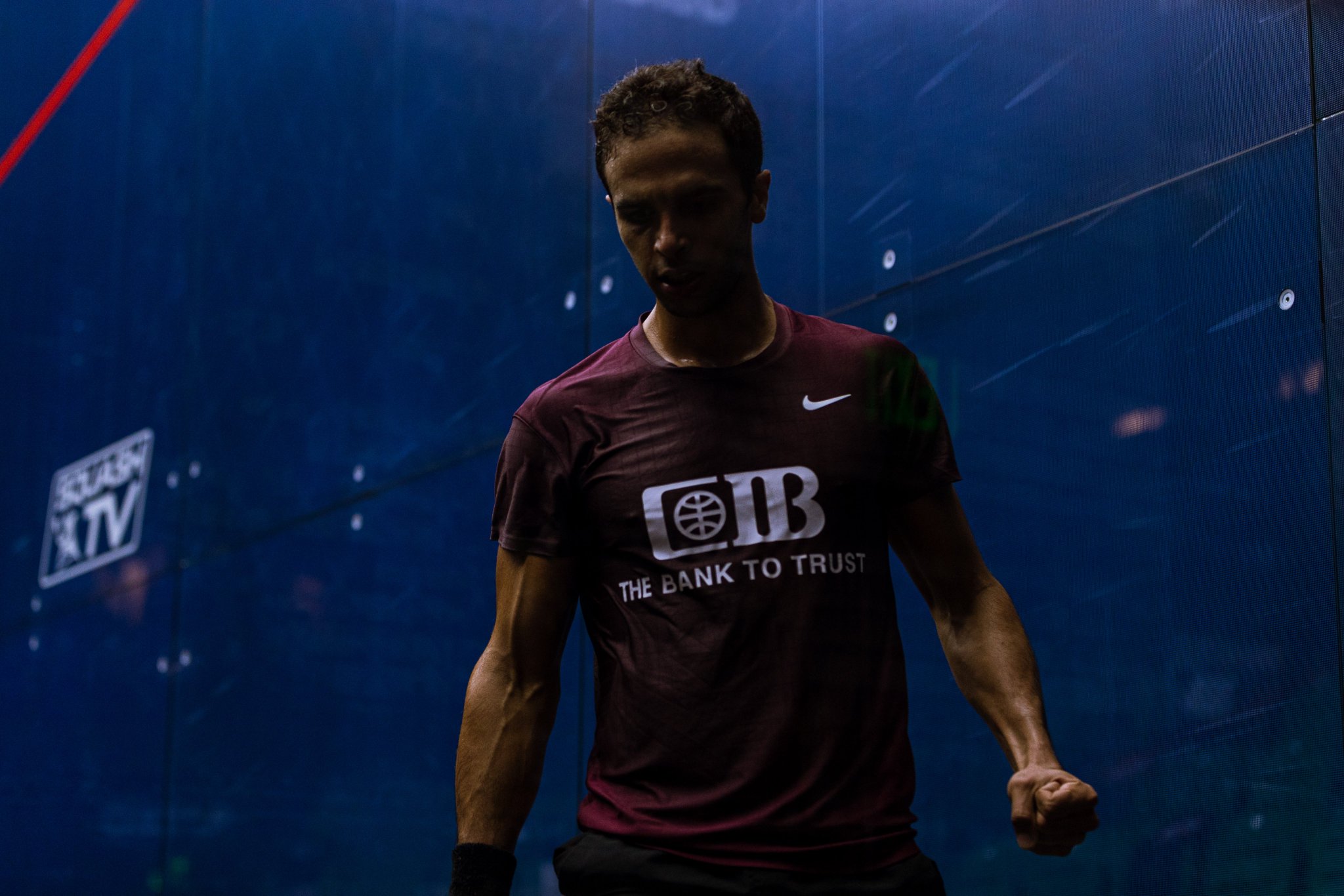 Abou
"I cannot put into words how much I needed this win. I've been losing a lot of 3-2s recently and it just got into my head too much. I managed to stay focused, put my head down and just keep working. I'm very happy with the performance tonight, I just kept it together until the end and without going for too much flashy stuff. I'm very, very happy.
"The draw has been brutal to me everywhere, not just in Qatar. I've been playing these [top] guys in first rounds a lot of times in the last two seasons. It's good to do it the hard way. I always say to myself 'If you want to reach the finals and semi finals, you have to beat one of these guys,' so playing them early doesn't change how I approach the tournament. Hopefully I can carry on from the performance I had tonight and keep going forward."
On his next opponent, Adrian Waller, who went through with a walkover due to an injury to Mohamed ElSherbini, he said: "Me and Adrian, we've played a lot of times, we broke through together and played the small tournaments going up to the big tournaments, so we both know what to expect. He's a great player and I'm pretty sure it's going to be a good match for the crowd."
Mostafa 
"I'm definitely [excited]. I want to thank everyone. To be here again in Doha is something special for me. It's one of the best tournaments I've played and me and my father, before last year, we were enjoying our sets here in Doha, so I'm glad I'm back with all eyes on the tournament here.
"This was a completely different match [to their last encounter]. Saurav played very well. I think [with] a little bit of a push he could have won the match. I'm glad I covered and read the game well at the end. The court here is a little tricky and I need to adapt, match by match. I'm glad to make it today. Saurav is so experienced and to play against him is such a pleasure for me.
"I think we are not like in football, there aren't 11 or 22 players. But squash players have lots of trainers, coaches, mental coaches. [We have] a very strong team, with your father and mother. 11 people surround you, so mentally I don't focus on anything, I only focus on my squash. I'm playing as a 20-year-old but I don't think about my age, because I think if you think about your age, you will not achieve anything, because you will say to yourself 'I'm young' or when you're playing a Platinum tournament 'Oh wow, I'm here to participate only.' But I'm not participating in any tournament, I'm here to win. Every match I'll fight for the win."
On his next opponent Youssef Soliman, he said: "I don't know what the result was but it was a very good and tough match. I hope we can put on a great show and thanks to the people who came to support me today, I was hearing lots of 'Mostafa' today, thank you all and I'm ready for the next round."