Final
[2] Ali Farag 3-1 [4] Paul Coll (NZL)  9-11, 12-10, 11-8, 11-8 (70m)
Ali said
"I prefer the best-of-five for sure, it suits my game and I think Paul would agree with that. We both like to wear our opponents out. We are not the flashiest of players who go for attacking shots, but I think we both did pretty well this week to adapt.
"Both of us have struggled in the World Tour Finals in past years because of the best-of-three, but I think this week we showed we are improving. As he said, it is always enjoyable to be part of a match with Paul. You know it will be played with fighting spirit, picking all the balls up, I don't know where he gets them from. As I always say, we always talk about his physicality, but his squash, his technical prowess and his technical ability, they are improving day by day, and they really are underrated. I am really proud to be a part of these matches and I am looking forward to a lot more in the future together.
"Amanda [Sobhy] said it best in her post-match interview. I hope it inspires a lot of people to go down that route of going to college, getting a good degree and then coming back on the professional circuit and achieve all the highs they want to. It is amazing to have all my friends and teammates from Harvard here. I can't forget Mike Way, who is watching from afar, and my people back home, Karim Darwish, a former World No.1 himself. He has been working very hard with me, my fitness trainers and obviously my family who have been waking up at five in the morning! This support means a lot to me and obviously my sponsors, CIB, Etisalat Sports, Dunlop. I am partnering with a great concept of squash, the Manhattan Community Squash Centre, which I think is going to revolutionise the game of squash.
Last but not least, you guys coming every night to support us. Even with the rain, you guys make it very special. We can't thank you enough. All of this obviously is because of John [Nimick], yo put an amazing event on, we were really missing your tournaments. It has been almost two years now and thank you for bringing us back. Evan [Goldberg, EVP of Oracle NetSuite], San Francisco has been synonymous with Oracle NetSuite. I have been talking a lot but I just wanted to thank everyone!
Semis
[6] Salma Hany 2-0 [5] Joelle King (NZL)  11-8, 11-8 (23m)
[4] Paul Coll (NZL) 2-1 [1] Mohamed ElShorbagy   9-11, 11-7, 11-8 (63m)
[2] Ali Farag 2-1 [7] Mostafa Asal  11-8, 8-11, 10-5 ret. (52m)
Ali said
"It is terrible, I hate to see such a thing, especially if I am on court with him. Five or six years ago, Nour tore her labrum in the shoulder diving on court, so I hope it is nothing even remotely as serious.
I hope it is just a spasm which will go away the next day because Mostafa is such a brilliant player for the Tour. He is a top, top player at the age of 20. When you were introducing him, I was in awe in what he has achieved by the age of 20 already, he is a brilliant player. We leave it all out there on court, the very last rally shows it all really, and I really hope it is nothing serious.
"You play by instinct on this court. It is hard to have a set gameplay because of how dead it is but you have to hit it a bit higher than the norm just to hit the back corners, and when you have the opportunity, you have to take the ball in because this court is very honest. It really takes the ball in so I tried to do that but it is not easy because he also does the same thing, right! It is never easy, I got off to a good start but then he came back strong. I was worried until the very end but again, I am terribly sorry about the way it had to end.
"To be honest, Paul's match with Mohamed today is one of the matches of the season. The season is still very young but it is one of the matches of the season. Tactically and in terms of accuracy they were spot on, the fighting spirit of both, the spirit and sportsmanship they played with. Everything was spot on and I was watching, like you guys, and I was enjoying it big time. Paul, we have had a lot of battles recently. He beat my at the British Open, I then beat him in Egypt and Paul, you know how it is going to be. It is going to be tough, but you know it is going to be fair and clean. This is how I enjoy to play my matches and hopefully we give a good show tomorrow."
Salma said
"It feels really amazing. Just getting out here and playing on this court, and in front of this crowd is a real pleasure. I just kept telling myself to just think about this special moment, enjoy my game, enjoying this venue and this city. As I told you yesterday, I don't wanna go home, so I am glad I made it to the final.
"I was just really enjoying sharing the court with Joelle. She is an amazing player, a fair player and I am sorry that it ended in not a very nice way, but she was coming back really strong in the second game and I am just glad I managed to close it.
"Obviously it was a great opportunity for both of us, of course. Both of us wanted to make it to the finals and I just tried to keep my head. The opportunity that I got to enjoy another day on this court, so I was just trying to make the most of it and not try to think about the result or the score. I think I managed to do that quite well today and yeah, it went good!
"I'm just going to recover, have a good meal and watch some Netflix actually. I am just really glad to play in front of you guys again tomorrow. It has been a real honour, and I have a couple of fans who came to watch me today and I am glad that I made them proud. it really means a lot that you guys cheer me on and I will look forward to it again tomorrow!"
Quarters
[1] Mohamed ElShorbagy 2-1 [6] Karim Abdel Gawad   16-14, 10-12, 11-5 (57m)
[4] Paul Coll (NZL) 2-1 [5] Marwan ElShorbagy   6-11, 11-5, 11-6 (39m)
[7] Mostafa Asal 2-0 [3] Tarek Momen  11-8, 11-6 (32m)
[2] Ali Farag 2-0 [8] Joel Makin (WAL) 11-9, 12-10 (35m)
[6] Salma Hany  2-1 [1] Nouran Gohar   9-11, 11-6, 11-9 (35m)
[5] Joelle King (NZL) 2-0 [4] Hania El Hammamy  11-5, 11-5 (25m)
Ali said
"I always love getting on court with someone who gives maximum effort. He is the prime example of 110% effort. The more respectable thing was that that point got me to 7-7. He was doing a lot of work and he then won the next two points. Any other player would probably have folded at that point and I thought I had the confidence, but it is a testament to his work ethic. He got a standing ovation from the crowd and rightly so!
"He dives a lot, he is a heavy sweater so we want to make sure that there is no sweat, especially on this court. It is such a dead court that it supports an attacking brand of squash. Both of us were going for it and neither of us wanted to slip. He stopped when he saw me slip and this is a testament of how respectful he is and I enjoyed every single bit of this match.
"This is how we are brought up to play this sport. To give it 100% but to respect your opponent and respect the crowd, respect the referee. He is such a warrior really, but he always gives maximum respect to his opponent.
"It is very tough. The best-of-three promotes an attacking brand of squash. Today I won 2-0, 11-9 and 12-10. A couple of points either way and I could have been the one already in the hotel and he was the one talking to you. I am not a very good loser, I tell you that! I am very happy well to be through. We saw how well Mostafa played today and I am looking forward to another great match tomorrow."
Mostafa said
"It is a really difficult feeling to play again so much intense squash after the World Tour Finals. I was down at the British Open and CIB Egyptian Open, some difficult times. So to be able to compete in an amazing city and in front of an amazing crowd. It's packed today!
"First of all, I want to say to Yassin, he is one talented player, so I want to say to him to get well soon for sure! I wish him a speedy recovery!
"All the squash fans know what happened after the match at the World Tour Finals. Tarek wrote on social media some bad stuff with me, but I have all the respect to Tarek. I have been watching him since I was a kid. we were at the same club so I grew up watching him play, so I said sorry to him for anything and I wanted to play a great match with him."
Salma said
"I'm pretty happy. When I stepped on court today all I was thinking is that I don't want to go home too soon from this tournament. I was really enjoying my time on court and every time my head went to the score and I was getting close, I just told myself to enjoy every rally and not rush the win.
"Nouran is an unbelievable player, we go way back since we were nine-years-old. She's younger than me, but I learned a lot from her. She is such a fighter and to share the court with her today was a pleasure. I'm glad I came out the winner.
"I just kept my head in the rally itself and forgot about the score, I wanted to spend as much time as I could on court. I wanted to win, but I also wanted to enjoy playing here and I think that made the difference. I wasn't rushing winners, when Nouran is down she gets scary and it's like taking a piece of meat to a lion. You don't want to look at her, you just want to focus on your game."
Mohamed said
"He has been struggling with a big injury in his foot and he's getting back. Every tournament you watch him, he is getting better and better. It would be stupid of any other top player to think that he is past his time, he is sending warnings to everyone.
"The way he played today, after I won the first game, the Gawad I know, he wouldn't have come back as strong in the second as he did, but he's coming back with a lot of hunger. He is the most talented player of my generation and to watch him, I'm a fan of his game. There were moments during the match when I just kept clapping for him because it was too good.
"The only thing I did was fight and accept there are some points where he is going to make me look like a fool, but all I wanted to do was win the last point.
"In a tense battle like that only a few points make the difference. Literally the first two games we were point by point. He could've won the first game and I could've won the second game, but the third, the only time I could see him his lose focus was at 5-5 and those few seconds were the difference between who won today. I just tried to not be the player who lost focus and luckily I came out as the winner. I'm really glad to be back here in the semis again.
"You have to study your opponent before you get on court, it's like a business, you need to know the people you go into business with. I need to know their character, I need to know their breaking point – I need to know everything about their character to study them. I'm just glad I came out as winner.
"I prefer playing in the afternoon, I remember Shabana once told me that the best time for matches is the morning because if you win you get to live the rest of the day as a normal human being, if you lose you can take a flight back home. Luckily, I get to enjoy watching the other guys battle it out…"
Round One, Part 2:
[7] Mostafa Asal 2-0 Mazen Hesham   11-3, 11-3 (28m)
[3] Tarek Momen 2-0 [WC] Spencer Lovejoy (USA)  12-10, 11-9 (19m)
[2] Ali Farag 2-0 Omar Mosaad  11-4, 11-7 (23m)

[3] Sarah-Jane Perry (ENG) 2-0 Rowan Elaraby  11-5, 11-9 (22m)
[2] Amanda Sobhy (USA) 2-0 Nadine Shahin     11-3, 11-4 (9m)
World No.1 CIB Ali Farag is through to the quarter-finals of the Oracle NetSuite Open, after getting the better of compatriot Omar Mosaad in straight games on the glass court at the PSA World Tour Gold level event.
The reigning two-time World Champion was in great form as the temperature started to drop at Embarcadero Plaza in San Francisco, but he showed his class throughout the contest to take victory in 23 minutes.
Farag took the first 11-4, and was in complete control throughout the opening exchanges. The 'Hammer of Thor' started to mount a comeback in the second game, but the World No.1 was able to withstand the pressure, and he took the win with a lucky winner which went through Mosaad's legs en route to the front wall.
29-year-old Farag will now face Joel Makin in the quarter-finals, after the Welshman got the better of Indian No.1 Saurav Ghosal.
Elsewhere, former World Champion CIB Tarek Momen got the better of USA's Spencer Lovejoy in a quick-fire contest, while Mostafa Asal beat compatriot Mazen Hesham to make the last eight.
Unfortunately, Nadine Shahin today was no match for local hero Amanda Sobhy and it took only 9 minutes to the US champion to reach the quarters, while CIB Rowan ElAraby was unable to contain the Gladiator former winner of the event, SJ Perry.
THEY SAID
Ali 
"It is not only affection, but I have idolised Mosaad since a young age. We grew up playing for the same club and he was World No.3 when I first started on Tour. He was giving me lots of advice and he still is! We share the fitness trainer so we train with each other a lot and I have nothing but maximum respect for him and a lot of affection as well!" Farag said.
"My goal is obviously to try and win it but there a lot of great names in the draw: every top player is playing it.
"Having a baby is the best thing to happen to both of us in our lives so far. It is such a blessing and Nour is such a selfless mum. She is doing the job while I am here, but she has been hitting the gym already and she is aiming to come back to play in front of you guys! I can't wait for that because I miss her being here!"
Tarek
"It is always tough when you play against a player and the crowd. I knew what to expect today but the toughest part was playing Spencer, because I hadn't seen any of his matches before so it was tough. I got the chance to hit with him twice so I knew I wasn't in for an easy match.
"I could tell from the way he moves and the way he hits the ball that he is a decent player so I didn't expect it to be easy and it turned out to be that way, even worse! I am just really glad I managed to get that first game because I was trailing big, like 8-2. I thought I did really well to get that back because the conditions are very tough. It is very cold and he is very good with his hands, hit some decent kills.
"By the time I managed to get my legs going it was almost too late, but I am glad managed to get going in time. The second game was also not easy. I had a good lead but he managed to claw his way back and overall, I thought it was a very good match.
"It has been a blessed year for all three of us. We welcomed Shahir on January 2nd and ever since then it has been a true joy. It is hard for me to not have Raneem at most tournaments with me, and of course it is even harder for me to fly around the planet and play tournaments so far away, especially as this will be a long trip. I definitely miss them, but on the other hand, we have had some blessed times!"
Mostafa 
"It's my first time in the States since 2019. I love to play here, it's like my second home, I'm so happy everyone is here and thanks for the cheering.
"Mazen is such a talented player and today it was like 50-50. Mazen had full advantage from the Egyptian Open and he is playing amazing, you have to be so accurate and fighting for every ball to find the errors and I'm so pleased I was able to do that today. I'm ready for more, every tournament is a challenge and I'm looking forward to what is next."
[6] Karim Abdel Gawad 3-0 Miguel Rodriguez (COL)  12-14, 11-7, 11-2 (51m)
[5] Marwan ElShorbagy2-0 Gregoire Marche (FRA)    11-7, 11-7 (38m)
[1] Mohamed ElShorbagy 2-1 Mohamed Abouelghar  8-11, 11-8, 11-7 (48m)
[4] Paul Coll (NZL) 2-0 Youssef Ibrahim      11-6, 11-8 (37m)

[6] Salma Hany 2-0 Danielle Letourneau (CAN)  11-3, 11-6 (15m)
[1] Nouran Gohar 2-0 Hollie Naughton (CAN)  11-6, 11-7 (20m)
[4] Hania El Hammamy 2-0 Olivia Clyne (USA) 13-11, 11-6 (30m)

Top seed Mohamed ElShorbagy had to come from behind in his opening match, battling back to defeat CIB Mohamed Abouelghar, as ElShorbagy was aiming to extend his 100% winning record over 'the Bullet'.
It was all but plain sailing for the 'Beast from Alexandria' as he found himself 7-2 down in the first game in quick time, with Abouelghar going on to take the first game with ease. From there, though, ElShorbagy did what he always does, fight back.
He took the second game 11-8, and following a third game that was littered with stoppages, for refereeing decisions and court attendance, ElShorbagy eventually got over the line after 48 minutes of action, advancing to the last eight.
ElShorbagy will now face a former World Champion and World No.1 in CIB Karim Abdel Gawad in the quarter-finals after he downed Colombia's Miguel Rodriguez in a deciding game.
Much like Shorbagy, Karim found himself behind after the first game. The World No.6 lost the first on a tie-break 14-12, but from there, he allowed the 'Colombian Cannonball' to score just nine points, fighting back from a game down to win 2-1.
World No.2 CIB Nouran Gohar, the top seed in the women's draw, got her debut campaign in San Francisco off to the perfect start, defeating Canada's Hollie Naughton for the second straight event.
The pair met in the second round of the CIB Egyptian Open, with Gohar winning their contest at the New Giza Sporting Club, in what was the first step to her victor in front of the Pyramids less than a week ago.
She showed her confidence and class throughout her second clash with Naughton in the space of ten days, and needed just 20 minutes on court to take the victory and advance to the last eight.
She will now face compatriot CIB Salma Hany in the last eight, while CIB Hania El Hammamy will face  in Joelle King in the quarter-finals after the Gazelle defeated USA Olivia Clyne.
Hania said
"The first game, I started slow. Olivia threw everything at me and it was really crucial. I had to fight and dig deep in order to take the first game 13-11. That shows how tough it was. She is playing in front of her home crowd and that definitely gave her a push!
"Deep down, I knew what kind of errors I was doing throughout the first game, and the whole match actually. I was giving her too many opening and every time I lost focus, I kept telling myself to go back to the gameplan and to stop giving her openings. That is what gave me the edge."
Nouran said
"It has been five years now, but because of university I have missed it every time so I am glad this year. Actually, I had my graduation today but I was not going to miss coming to San Francisco this year!
"Having a rest day tomorrow helps. A match like this one makes you feel warm and ready to go. It is the top 16 playing this week, and it is very competitive from the first round. It is very special and it is best-of-three so you don't have time to warm up. You have to be on fire from the first point."
Mohamed ES said
"I think the most relaxed out of the three of us today was the referee, so I have to thank him for staying relaxed. He had two tense, dramatic squash players arguing all the time!
"But having Abouelghar in the first round is very tricky. I was very nervous before the match and everyone could see how tense I was, arguing at some decisions that I had no right to argue about as well, and the referee did a good job. He knew how tough that first round was, and he did a very experienced job.
"The last three years here, I have made three finals. I told my mother, and she has been everywhere with me, but she has never come to San Fran before. This year I told her that she had to come, that she would love it here. She was very aggressive with me today, shouting 'Come on, come on!'. That's how she brought me up and I have achieved so much because of her.
"I am just happy to win today, it was a tricky match, and I am looking forward to the quarter-final."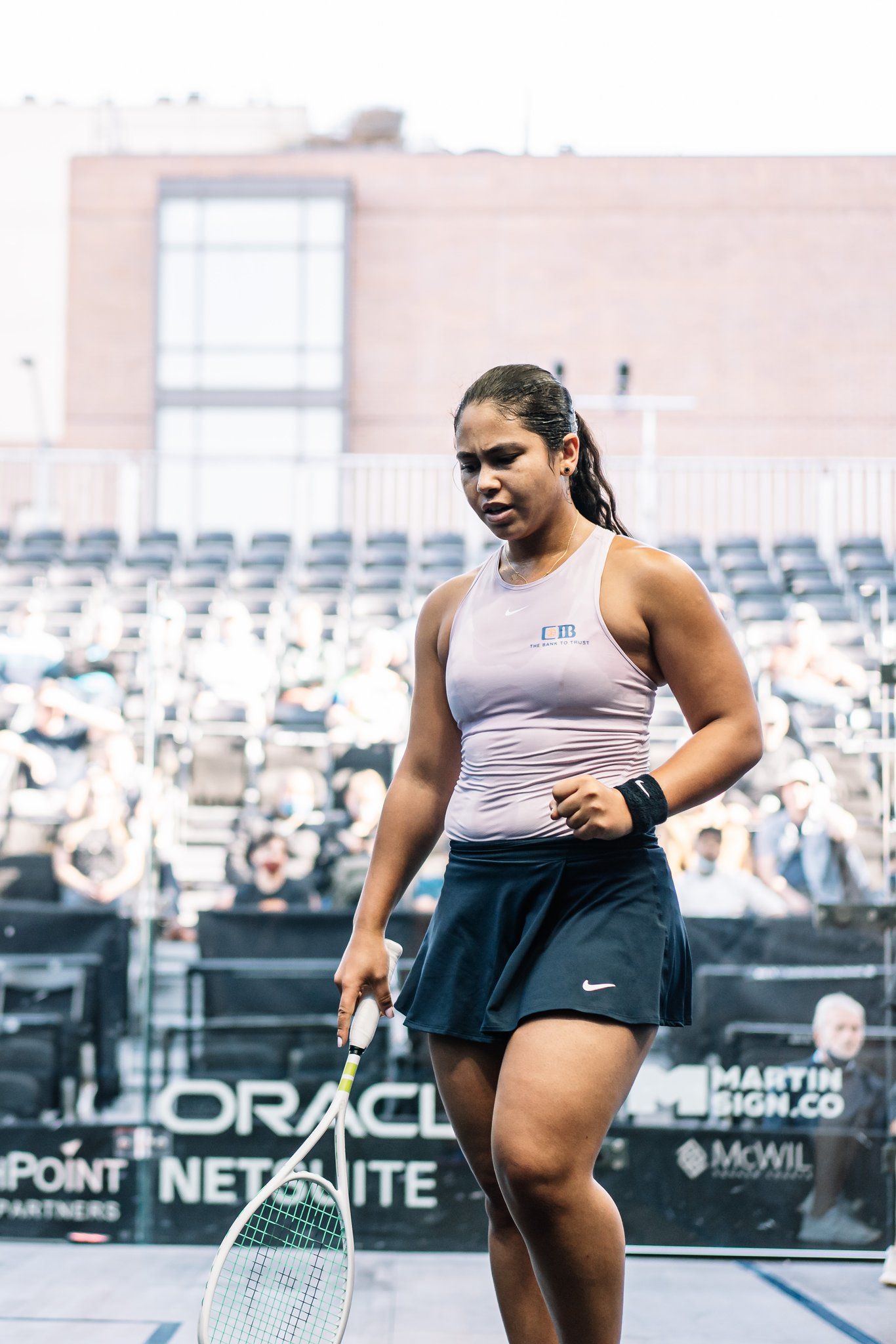 Salma said
"I made sure I got a good start because you can't afford to get into the game late, but at the same start you don't want to rush into winning. I focused on my length and my short game, and I just wanted to get used to the court. Danielle is coming up hungry and I'm very pleased with my performance today.
"I've enjoyed my time on court and I'm just looking forward to getting back on this court again in two days."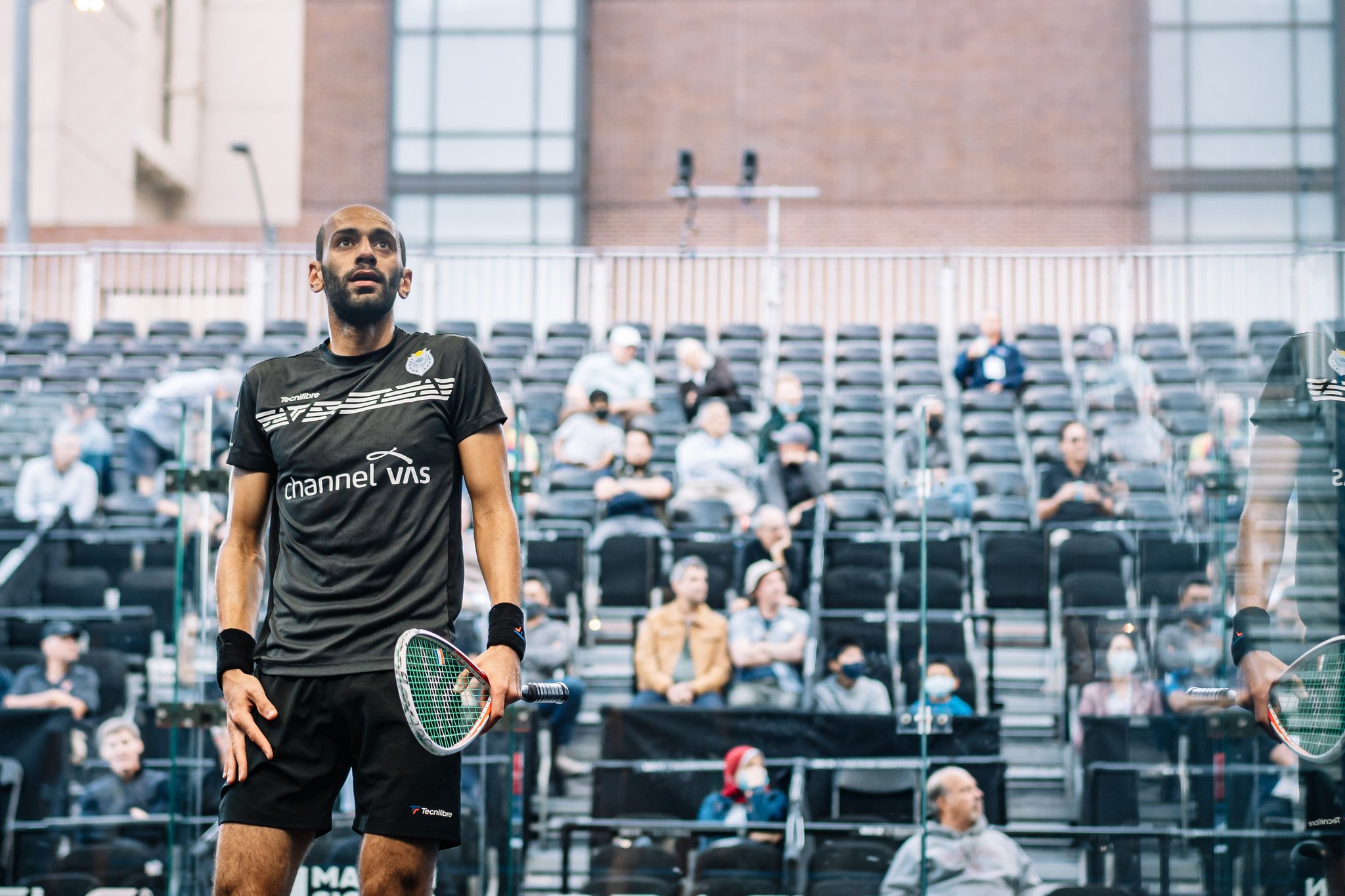 Marwan said
"I didn't mean to hit him, it was very unfortunate and I hope he is going to be okay. Anything around the eye is quite dangerous, I think he might need some stitches. I definitely didn't mean it, and I hope he is going to be fine.
"It's a best of three event, so you need to be really sharp from the first point. You can't give cheap errors, if you're not sharp then you waste points. I'm really happy with the way I started each game and really happy with today's performance. I'm trying to focus on my game, to be honest. I try to discuss less with the referees, and I'm just happy with today's win."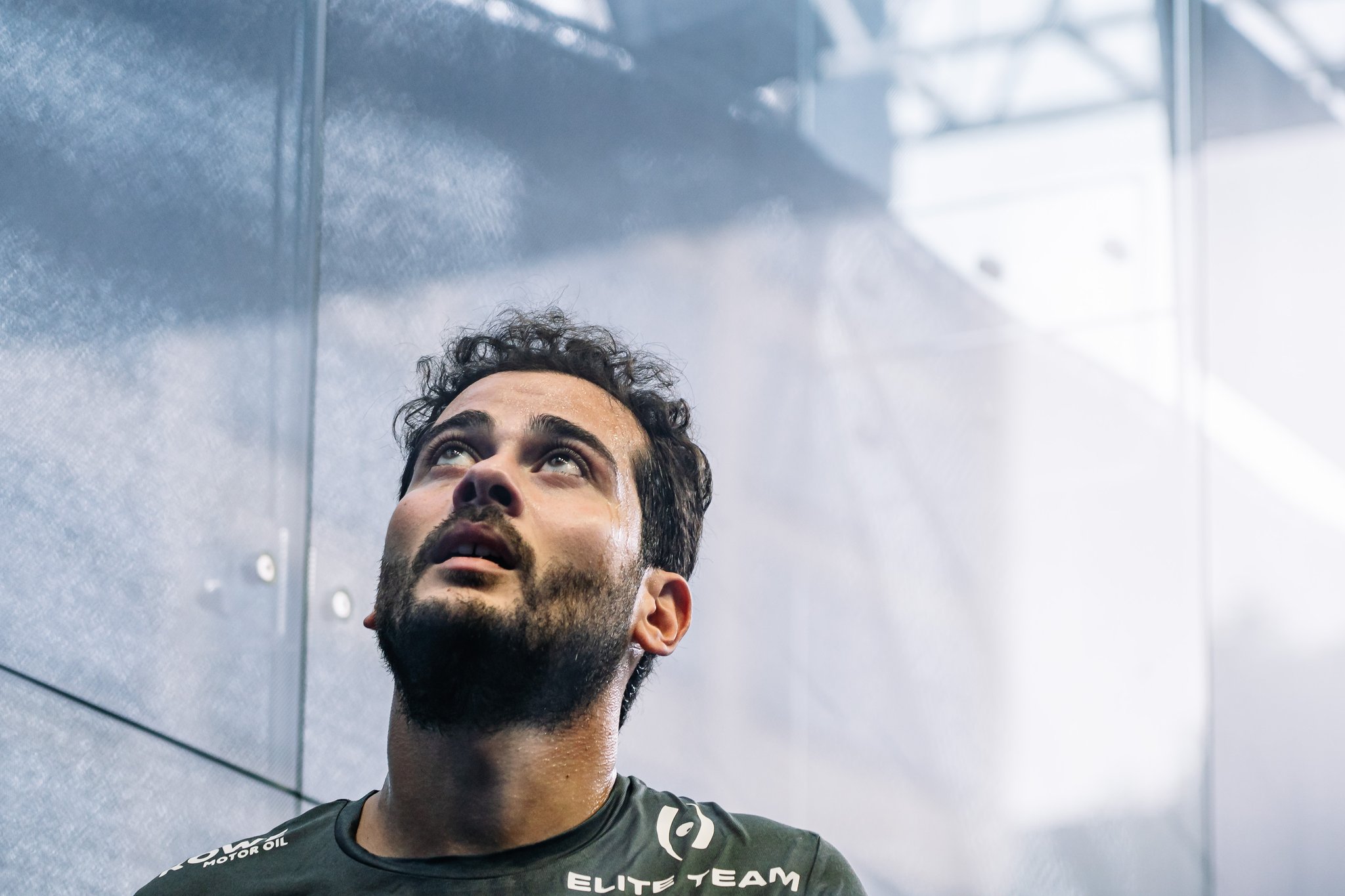 Karim said
"Best of three is a totally different story. For me, it's almost a different sport, sometimes you're up 2-0, sometimes you're 2-0 down and things can turn around.
"In the last period I've been on and off, so I just wanted to play my best. I was a bit worried at the beginning of the match, I didn't want to lose in the first round and Miguel is a very dangerous player.
"After the first game I just told myself to leave everything on court even if I lost in the first round. I just wanted to play my best squash, tried to win and hopefully I can win again.
"I had more confidence in the second. I wanted to play my game, he was the one controlling the game, so I wanted to play my game at the end.
"When I came back on court in the third, I wanted to play an attacking game with more winning shots and I'm glad it worked. Miguel can come back at any time, in the first game I was 10-8 up and lost that one. The second game, I was 5-3 up and he came back, so I wanted to focus on every point.
"Playing in the morning is a different story, it's sometimes hard to see the ball, but you have to adapt at any time, any moment, so I'm looking forward to my next match."