Final
[3] Diego Elias (PER) 3-0 [5] Fares Dessouky  11-5, 11-8, 11-9 (45m)
Semis
[5] Fares Dessouky 3-1 [2] Tarek Momen  11-7, 9-11, 11-4, 11-5 (48m)
PSAReports
There was an all Egyptian clash in the second semi-final with former World Champion CIB Tarek Momen facing CIB Fares Dessouky, who has been absent from the tour due to injury since September.
Dessouky wasted no time in the first game and ran out to a 10-1 in 6 minutes lead to eventually win it 11-7. Momen managed to recover in the second game and started to restrict Dessouky's attacking options.
Dessouky however had other ideas and unleashed some devastating attacks to the front of the court giving Momen no chance to make any headway of his own in the match. Dessouky won the next two games 11-4, 11-5 to join Elias in the PSA Silver event final.
"I had to regroup after the second game, and I was thinking: 'OK, now do you want to play well, or do you want to win?'" Dessouky said. "If I want to win, I have to play the best squash I could, and make it hard for him on the court, too."
Quarters
[3] Diego Elias (PER) 3-0 [6] Karim Abdel Gawad  11-7, 11-4, 11-4 (36m)
[5] Fares Dessouky 3-0 [4] Marwan Elshorbagy 11-2, 11-7, 12-10 (34m)
[2] Tarek Momen 3-1 [7] Mazen Hesham (EGY) 3-11, 11-8, 11-9, 11-3
World # 9 Fares Dessouky of Egypt faces off against fellow countryman, World #4 and two-seed Tarek Momen at 6 PM in the semis.
Momen dropped the first game of his quarterfinals match against Egyptian Mazen Hesham on Friday night before storming back to win the final three games and advance with a 3-11, 11-8, 11-9, 11-3 win.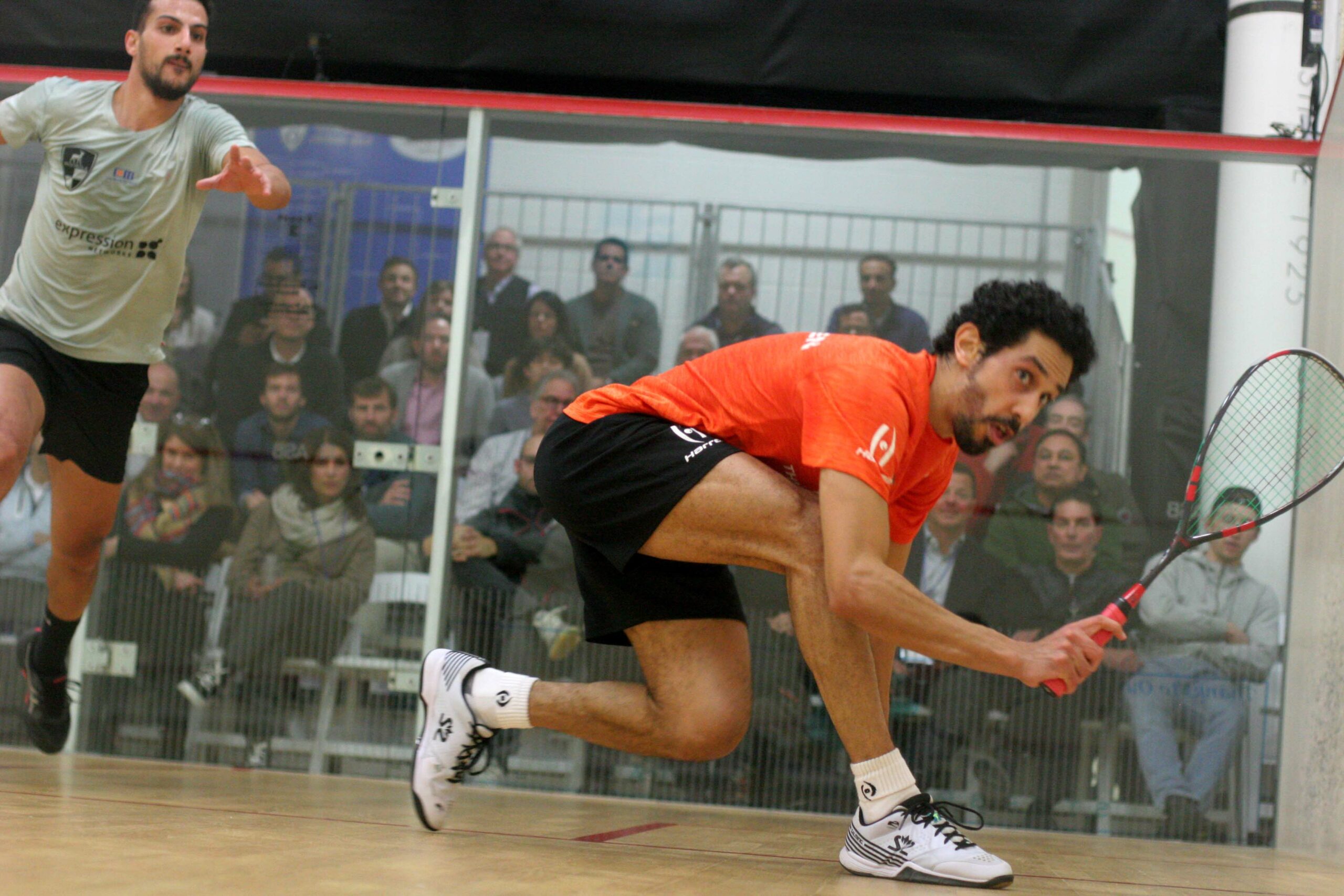 "I wasn't sharp enough at the beginning," Momen said. "I was a bit loose and wasn't focusing on building rallies. Mazen's very good at rattling off points very quickly. Toward the end of that game, I tried to just play a few rallies to get myself into rhythm and then get the momentum going in the second."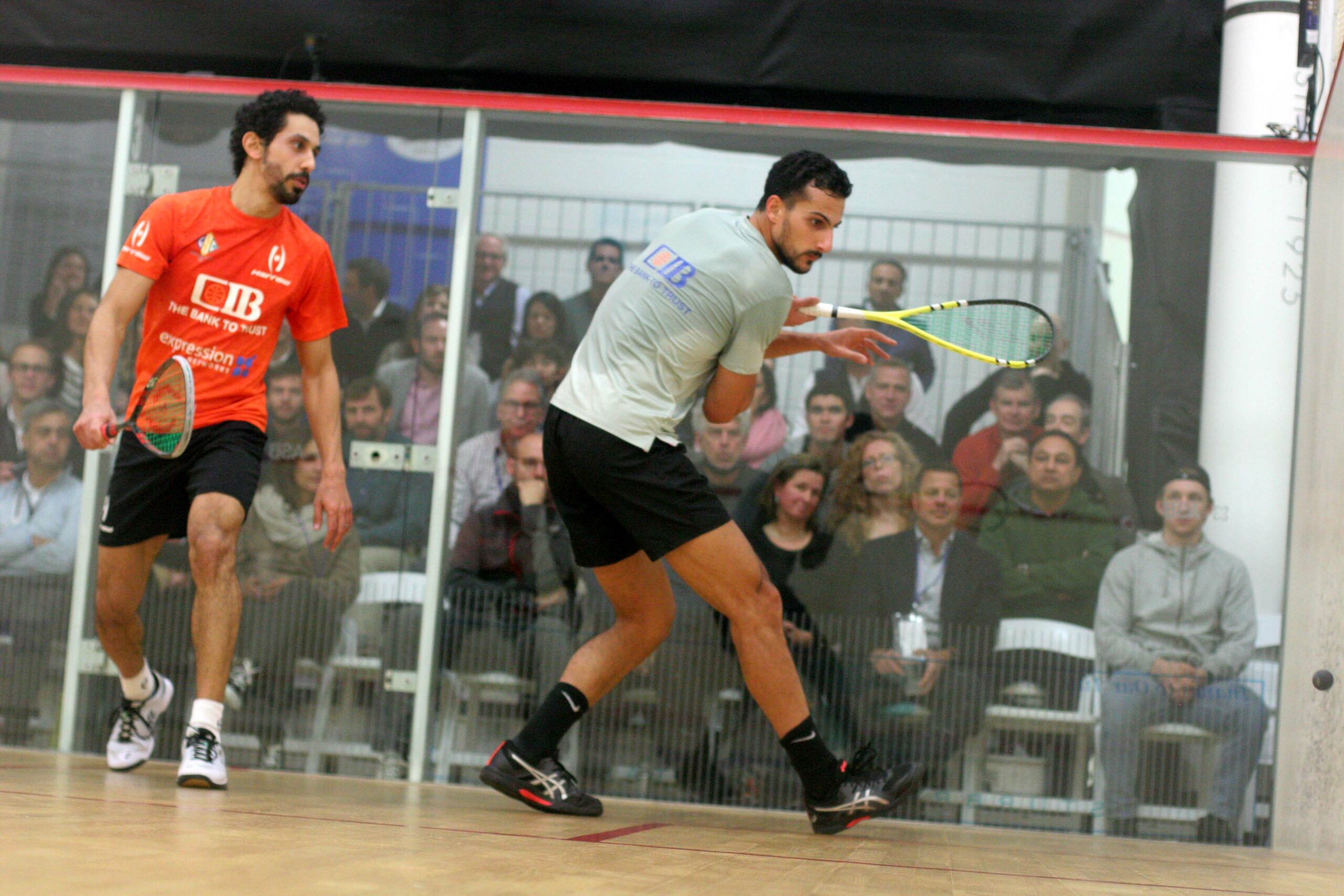 Dessouky, meanwhile, had a much different match. He dismantled former MCO champion Marwan ElShorbagy in the first game and didn't give him any rope in the final two, winning 11-2, 11-7, 12-10.
Like Coll and Elias, Dessouky and Momen will have a lot of prior knowledge of their opponent before stepping into the court.
"I know him very well, obviously. We've trained a lot together. We played a lot together, so it's going to be another tough one," Momen said. "He's had a long break because he was recovering from an injury. So he's back again at his best form and I'm looking forward to it."
Fares Dessouky and Omar Mosaad had a spirited battle. After winning just 10 points in the first two stanzas, Mosaad imposed his game to take the third, 8-11. His glory was short-lived, however, as the cat-quick Dessouky ran through game four, 11-3.
Round Two
[2] Tarek Momen 3-0 Sebastien Bonmalais (FRA) 11-7, 11-6, 11-4 (34m)
[5] Fares Dessouky 3-1 Omar Mosaad  11-5, 11-5, 8-11, 11-3 (46m)
[4] Marwan ElShorbagy 3-0 Adrian Waller (ENG) 14-12, 11-7, 11-3 (35m)
[6] Karim Abdel Gawad 3-1George Parker (ENG)  15-13, 9-11, 11-5, 11-7 (56m)
The PSA World Tour Silver event will make its first appearance on the calendar since 2020 after missing last year due to the global COVID-19 pandemic, No.2 seed and former World Champion CIB Tarek Momen, who makes his first appearance at the Motor City Open since 2014. The World No.4 also receives a bye into the last 16, where he will play the winner of England's Patrick Rooney and France's Sebastien Bonmalais.
Momen is seeded to play Houston Open runner-up CIB Mazen Hesham in the last eight, before a potential semi final against 2018 champion CIB Marwan ElShorbagy. If he comes through those fixtures, he is seeded to meet Paul Coll in the title decider, in what will be a repeat of the 2019-20 PSA World Championship final, which Momen won.
The Motor City Open offers $80,000 in total player prize compensation and points are also on offer for the CIB Road to Egypt Standings, with a top eight finish on the standings ensuring that players will qualify for the season-ending CIB PSA World Tour Finals.