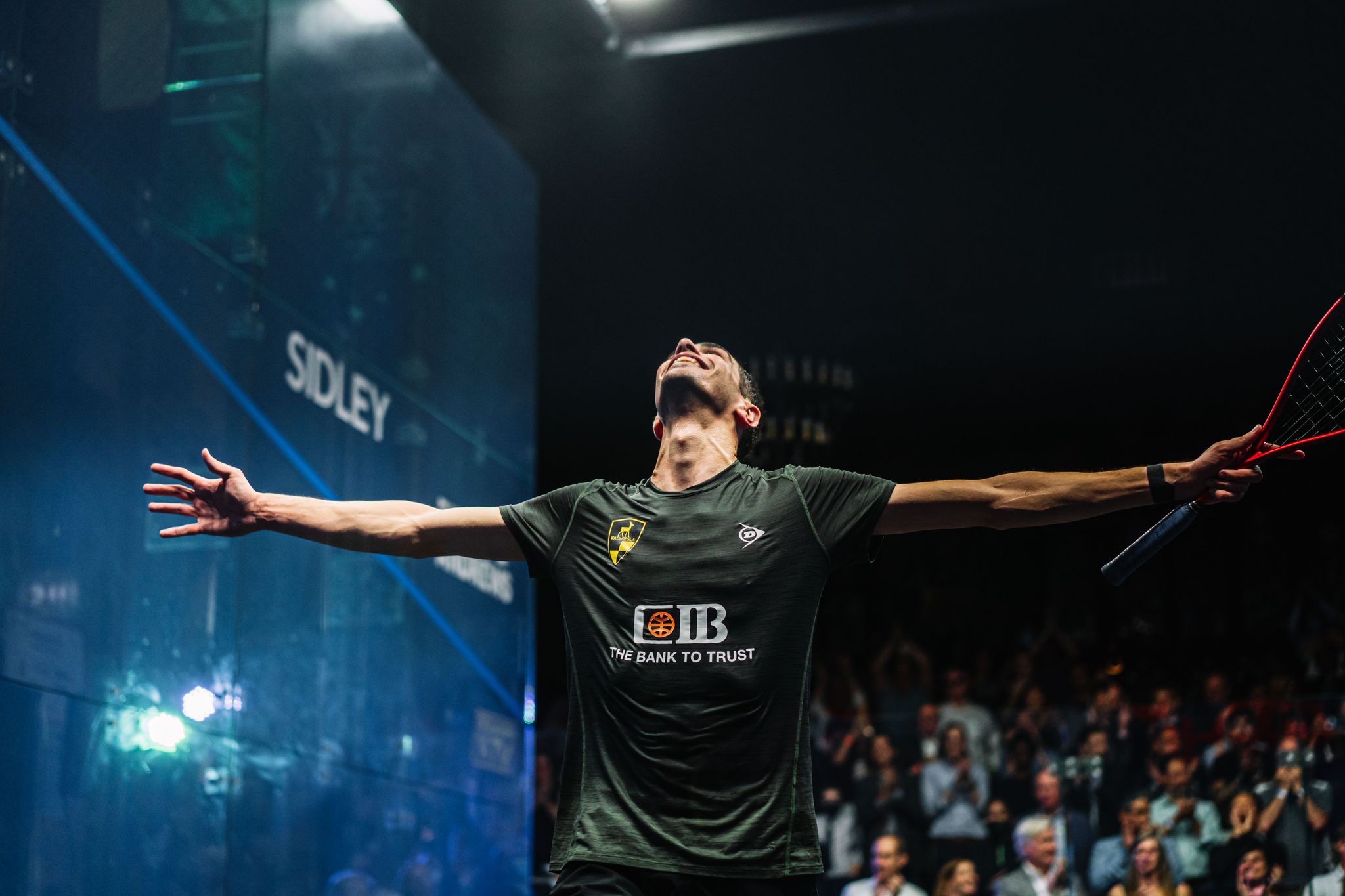 [1] Nour El Sherbini 3-1 [2] CIB Nouran Gohar  11-5, 11-8, 8-11, 11-9 (53m)
[1] CIB Ali Farag 3-1 [2] Mohamed ElShorbagy  7-11, 12-10, 11-9, 11-4 (67m)
🗣 "It has been incredible here, and I always enjoying coming back and playing here."@NouranGohar reacts to her final defeat to @noursherbini 🎥#PSAWorldChamps pic.twitter.com/jGrkonD5mp

— PSA World Championships (@PSAWorldChamps) July 23, 2021
Nouran Gohar:
"I think it's the hardest part to talk when you have lost a final.
"I can't really complain, I have had a great week here in Chicago. Thank you to all of the sponsors for making this possible and supporting our sport. I always enjoy coming back and playing here, I remember the first time I came here I was 15-years-old, I lost on the traditional courts and I promised myself that I would be on this glass court competing one day.
"If I play squash, it's because I just wanted to be with my dad on court and I hope I did you proud this week. My mum is not here, but everyone knows how important she is in my life in general and another man standing here, Omar Abdel Aziz – words can't say enough about everything you have done for me. He came all the way from Egypt just to watch the last few matches. I told him before this tournament that I really needed him.
"Another important person is my fiancé, he's actually competing at the Olympics in the fencing event. I wish him the best of luck, I made him wake up at 6am every day to watch my matches, I hope I didn't make him very stressed today and he is able to play tomorrow!
🗣 "@AliFarag is such a champ and he's the one that really inspires me to be better every day."

Gracious in defeat as always, @MoElshorbagy pays tribute to the new World Champion 🏆#PSAWorldChampions pic.twitter.com/bOrCspN5M4

— PSA World Championships (@PSAWorldChamps) July 23, 2021
Mohamed ElShorbagy:
"First of all, I would like to congratulate Ali. He's such a champ and he's one that really inspires me to be better every day. He makes me want to wake up every single day to get better. He has been my main rival for three or four years now and that's like our 13th final, I have so much respect for him. I would like to congratulate him as his daughter was born just two days before this tournament started. But, I'm really angry at you for beating me today, but I look forward to many more big finals. Our rivalry deserved to play in one big World Championship final.
"I would like to thank the Walter family for supporting the sport, you take it to another level. We are really lucky to have you and I look forward to being back. Thank you to the crowd for supporting us.
"I would like to thank my parents, thank you for letting me live my dream and I hope I make you proud. I'm sorry I didn't win today but hopefully I'll be back and get my hands on that trophy."
Ali Farag:
"I'm quite emotional about this because it's a special week for me with my baby daughter born just before this and having my parents in my corner.
"My favourite person of all time, Mike Way, is here. I don't know what it is about Chicago that brings the best out of me and now my daughter was born here as well, I think I should apply for a residency!
"It's definitely becoming my favourite city and not just because of the events but because of the people that make you feel so welcome. The Walter family never cease to amaze us with how much they support the sport.
"Mohamed, when I share a court with him, every time it's an honour. We are here, our generation, because of him. He paved the way for us and we have to keep raising our game. If he wakes up because of me, all of us wake up because of him. I'm in awe of what he does and he is the reason that we are here today.
"A couple of weeks ago at the World Tour Finals, I lost every single match. I was top seed and I didn't win a match, I wasn't in a good way and there's only one person I call when I'm like that and that's Mike Way. I told him he had to come to Chicago, I'm in big trouble and you're the only one that gets my head in the right space. Nour is jealous because of how much I love you.
"There are countless words I want to say about Nour. Whatever she's going through, holding the baby for me to be able to play on this court and. I'm forever grateful about that. They always say the first World Championship is the most special but for me this is because of the people I have around me."
Is that the rally of the tournament!? 😳@MoElshorbagy & @AliFarag are bringing their 'A' games here 🔥#PSAWorldChamps pic.twitter.com/A4ttvFLo4Z

— PSA World Championships (@PSAWorldChamps) July 23, 2021
🏆 @noursherbini has won her 𝙁𝙄𝙁𝙏𝙃 @PSAWorldChamps trophy!

The World No.1 becomes only the third woman to achieve that feat after @NicolDavid & Sarah Fitz-Gerald 👏👏👏#PSAWorldChamps pic.twitter.com/rrB1fGh2RS

— PSA World Tour (@PSAWorldTour) July 23, 2021
Nour El Sherbini
"It's really hard trying to think of anything to say right now.
"I'm really thrilled, if anyone told me before that I was going to win five World Championships then I wouldn't believe them. It's really hard to believe that I have just won my fifth World Championship.
"It was very tough until the end, Nouran kept pushing me, she keeps fighting and never gave up. That's why she's here and she's playing her first World Championship final, I know how big it is and how she's feeling. She didn't show any pressure, she played hard and tough until the last point. I'm really happy I finished it in the end.
"I always try to work and improve my weaknesses and watch what's the problem and try to improve to make it easier. Trying to work on my movement lately so it makes it easier and I hope the work paid off.
"I think I had to wait until the final to lose one game and to the World No.2.
"I'm going to celebrate with my dad and back home, my mum and my brother, all the family and friends – it's very late now but everyone is up and watching!"
H2H_WC21_F