Breaking into the top 20 is a big goal': 60 seconds with Aly Abou Eleinen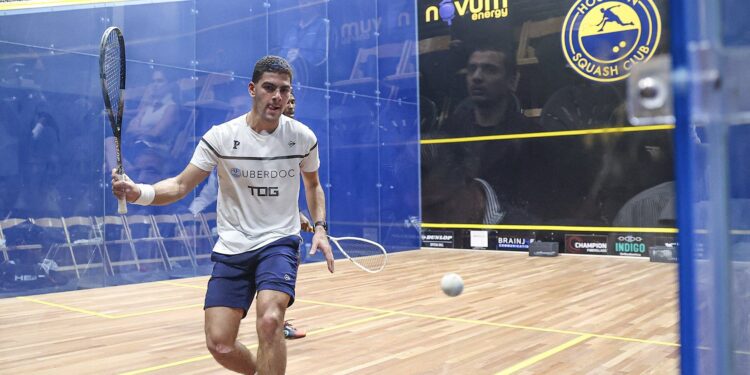 Hi Aly. What's your career high so far?
Reaching the world ranking of #33. It's definitely a highlight of my career, and something I'm really proud of. It's taken a lot of hard work and dedication to get there, but it's just the beginning for me. I'm always looking for ways to improve my game and climb even higher in the rankings. There's still so much I want to achieve in my squash career, and I'm excited to see where it takes me next!
How would you sum up your playing style?
A blend of the English and Egyptian game. I enjoy going for shots and taking calculated risks, while also being patient and strategic in building the rally. I try to take control of the game by hitting the ball with precision and power, while also being adaptable and willing to adjust my approach based on the situation. Additionally, I pride myself on my movement and footwork, which allow me to cover a lot of ground on court and anticipate my opponent's shots.
Who was your squash idol growing up?
My older brother!
He was an amazing player and always inspired me to be the best I could be. Even though he is five years older than me I would always jump at the chance to play squash with him. Squash wasn't just a game for us, it was a way to bond and spend time together. His passion for squash rubbed off on me, and I'm grateful for his influence on my life.
Do you have any superstitions or quirky pre-game routines?
Yup, I definitely have a few. But one of my favourite rituals is creating a new music playlist before EVERY tournament. It's a routine I look forward to each time, and I really enjoy the process of selecting the perfect songs that will help get me in the zone before hopping on court.
Plus, after the tournament is over, I like to keep the playlists that I used for tournaments where I played well. It's a fun way to remember the matches where I played my best and it's a simple but effective way for me to stay focused.
What would you be doing for a job or career if you weren't playing squash?
At the moment, I'm fully focused on my squash career and working hard to achieve my goals in the sport. But I believe that keeping an open mind and staying engaged with the world around me can help me open doors and create opportunities for myself, both on and off the court.
With my degree in Philosophy, Politics, and Economics, I have a broad foundation of knowledge and skills that can be applied to different areas.
I've always had an entrepreneurial spirit and the idea of starting my own business someday is something that really excites me. As I continue to pursue my squash career and grow as a person, I'm excited to see where my passions and interests will lead me in the future.
Who do you see as the most skilful player on the tour today?
On the women's tour, I have to say that Nour ElSherbini is definitely up there as one of the most skilled players in the history of the game. I always enjoy watching her play because she brings such a high level of skill and intensity to every single match.
"I once played a tournament match in Egypt
and the lights went out in the middle of the game"
What is your favourite squash drill?
The alley game with a cross-lob option to switch sides. I find it exciting, and it's a great mix of being patient and accurate while also working on your shots and movement up the court.
What is your favourite shot?
The backhand volley drop. It just feels so smooth and satisfying when you hit it just right.
What's the strangest thing that's happened to you in your squash career?
I once played a tournament match in Egypt and the lights went out in the middle of the game, and we had to finish the match by the light of our phones. It was definitely a strange experience, but we both had a good sense of humour about it and ended up finishing the match without any major issues.
Do you have any close friendships on the tour?
I'm fortunate to have some close friendships on the tour, including a few friends from my hometown of Alexandria, Egypt, who are also competing on both the men's and  women's tours. It can be tough to travel so much and spend so much time away from home, but having good friends around definitely makes it easier. We enjoy travelling and competing together, and we always manage to have a great time while creating new memories on the road. It's one of the many things I love about playing squash and competing on the tour!
"One of the biggest highlights for me this year will be playing in the World Championships and the British Open"
Name one thing governing bodies or referees could do to improve squash for viewers?
I would say making the game more accessible to watch through better media coverage, such as increasing the number of tournaments broadcast on television or streaming platforms. In the past, tournaments were even broadcast for free on Facebook, which helped to attract viewers outside of the sport. This highlights the importance of providing accessible platforms for viewers to watch squash, which can increase the sport's audience and popularity.
What's your top tip for squash beginners?
My top tip for squash beginners is to focus on enjoying the game. By finding ways to have fun on the court, you'll be more likely to stick with it and see improvements over time. Whether it's playing with friends or setting small goals for yourself, there are many ways to find joy in squash.
And as you start to enjoy the game more, you'll likely find that your skills and abilities improve as well. So my advice would be to keep a positive attitude and keep playing – you never know where the game of squash might take you.
You rose sharply up the rankings in 2022. Do you have any aspirations for 2023 when it comes to your game or particular events?
I had a great year in 2022, with some big wins that helped me rise up the rankings soon after graduating from Penn [University of Pennsylvania] in May. Looking ahead to 2023, I'm feeling really excited about the opportunities that are coming up. One of the biggest highlights for me this year will be playing in the World Championships and the British Open. As a kid, you dream about playing at the highest level of the game, and I can't wait to challenge myself on that stage.
Breaking into the top 20 in the world rankings is also a major goal for me this year. It's a big challenge, but I'm confident that I have what it takes to get there with continued hard work and a willingness to learn and improve. Of course, there will be ups and downs along the way, but that's what makes it all worthwhile.